My favorite use of an iron skillet is to make this cake.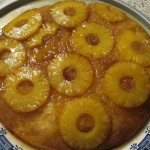 It is best when served very warm, NOT HOT.  (We always have trouble waiting until it cools enough).  However, this cake needs to be served warm from the oven.  It is not nearly as good after it is totally cool.
Recipe: Pineapple Upside Down Cake
Ingredients
1/3 c. butter
2/3 c. sugar
2 eggs
2/3 c. pineapple juice (add water if not enough juice)
1 1/2 c. flour, sifted
3 tsp. baking powder
3 1/3 tsp. salt
1/2 tsp. vanilla
4 tbsp. butter
1 c. brown sugar, light
Canned or fresh fruit
Instructions
Cream butter; add sugar, beaten egg yolks and vanilla.
Sift together flour, baking powder, salt; add to first mixture alternately with juice.
Fold in stiffly beaten egg whites.
While making cake batter, melt butter and brown sugar, when thick, add cut pineapple slices.
Pour batter over fruit and bake about 35 minutes in moderate oven (350 degrees F).
Remove to dish, turning upside down so that the fruit will be on top.
Serve hot.
Quick Notes
My father always added more brown sugar to the topping.
An iron skillet is the best pan to use for this recipe.
Just wait briefly after removing from oven to turn out onto a plate.
Make sure the plate is larger than the cake by a half an inch or more to leave room for the brown sugar sauce to ooze at first.
Variations
You can use other types of canned fruit like peaches or some other fruit that will hold up well to cooking.
If you use other fruit, just use water instead of pineapple juice.
Maraschino cherries placed in the center of the pineapple slices on the bottom of skillet will make the top of the cake more festive looking.