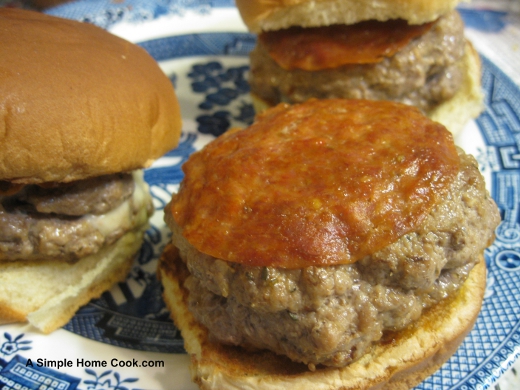 We had just placed our orders when I saw it on the menu, pizza burger.   I was determined to get one the next time we went.
In the meantime, I kept on thinking about those greasy, yet delicious pizza burgers of my past.  The small, local, soft-serve ice cream drive-up where we bought many of them.  Frying up ones purchased from the the Schwan's  man. Biting into the burger (actually burgers) with the melted cheese hidden in the middle.   Yum, I wanted one more than ever.
A month or so later, we went back and my husband and I ordered pizza burgers.  While waiting for our order, I wondered if they would put pizza sauce on top….oh well, I could live with it…they had good pizza sauce.
When we got the burgers, my heart sank.  There was sauce and cheese on top of a strangely colored patty.  The sauce did not look like it was their tasty pizza sauce; it appeared to be their not tasty, rather awful, spaghetti sauce.  One bite told me that I was right 🙁  Honestly, I ate less than half of my burger…my husband finished his only because he had missed lunch and was very hungry.
My obsession with having a good pizza burger just got stronger after my major disappointment; thus, I made my own.
I like to use premixed pizza seasoning or Herbes de Provence. While a pizza seasoning mix is available in most grocery stores, Herbes de Provence is a little harder to find. Many grocery stores do carry it, especially natural food grocers. Williams-Sonoma has a tasty blend of pizza seasoning. Amazon has Provence Herbs from France in crock 1oz
Sur la Table also has the cute crock of Herbes de Provence.

Recipe: Pizza Burgers
Ingredients
1 to 1 1/2 lb. ground beef
1 tsp. sea or kosher salt (or to taste)
1/2 tsp. pizza seasoning or herbes de provence (or to taste)
mozzarella cheese
thinly sliced sandwich pepperoni
buns
Instructions
Mix salt and seasoning into ground beef.
Form beef into thinner patties.
Slice a 1/4″ thick piece of mozzarella cheese from a block or ball and place in center of patty.

Place another hamburger patty on top.
Pinch edges of patties together then press into a circle.

Place a slice of pepperoni on each stuffed patty.
Start burgers in a hot skillet then lower temp to medium.
Cover to trap steam in to cook the patties.
Add a little water if not enough steam to make steam if needed.
Serve on toasted buns.
Quick Notes
Meat needs to have enough fat to hold it together. An 80/20 or 85/15 blend should work.
Pepperoni must be applied to uncooked beef patty in order for it to stick and flavor patty.
Variations
Although delicious plain, pizza sauce, sauteed mushrooms, pickles, ketchup, etc. may be used as toppings.
A slice of pepperoni may be added to other side of burger too or omitted altogether.
Here are a couple alternative methods to making the stuffed patties:
Make large patties and use a butter knife to create a slit in the patty. Stuff the cheese to the center with through the slit. Then, reseal the slit.
Buy a stuffed burger maker. Sur la Table sells a $10 one that makes a 3/4 lb. stuffed burger

In the end, the flavor, texture, and quality of this homemade version is so much better than what I used to buy. Besides, these are much less greasy…and I actually know what is in these!