One of my favorite places to go after Christmas every year was to visit my relatives in Toronto, Ohio…a small town along the Ohio River whose most famous son may have been Robert Urich. The reason I loved to go…beyond seeing my relatives…was that many people in the area recognized Orthodox Christmas and the decorations and traditions were still happening long after the holidays had passed where I lived. (I lived a couple of hours down the river).
There were other cultural differences between where I lived and those found in Toronto. The region had a influx of immigrants to work in the mines from Eastern Europe (including some of my husband's relatives), Italy, and several other areas of the world in the early 1900's, thus the area's cuisine reflects the influence. In fact, some of my favorite holiday food treats are still from recipes that my mom received from my family's friends there. One woman, whose first name was Suzi, provided her with two of the best: a nut bread (Slovakian Potica) and pizzelles (Italian).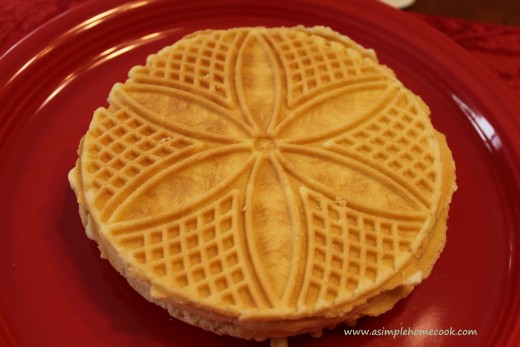 Pizzelles do require a special "iron" or baker. The "old school" irons to make these thin, waffle-like cookies are used on top of the stove. However, there are many electric pizzelle irons available.  The nonstick irons like the CucinaPro 220-05NS Non-Stick Pizzelle Baker
are apparently popular. I am not a fan of Teflon, so I like the classic Palmer Pizzelle Maker.
I still use my parent's electric iron form the 1970's. However, I have changed Suzi's recipe a little. Her original recipe did not call for baking powder. I added some to lighten the cookies. I also have followed my parent's changes by not adding all of the original flavoring into a single batch. The original recipe called for anise, lemon, and citron to all be included. I, like my parents, divide the dough into smaller batches and flavor one with lemon, one with vanilla or LorAnn Vanilla Butternut Flavor
(my new favorite), and maybe one with almond, orange, black walnut or whatever flavoring I have on hand.
Here is my slightly adapted recipe: