Iconic foods and beverages of the South in the United States includes fried chicken, macaroni and cheese, and sweet tea.  I had all three for lunch at Public House in Chattanooga, Tennessee. They were all delicious.
In fact, two Southern staples were used in just one item; the fried chicken had been brined in sweet tea prior to being breaded and fried. The fried chicken was crispy, juicy, and flavorful.  It made the top of my favorite restaurant fried chicken I have ever eaten list – or it would have if I had such a list.  Even better, it was less than 9 dollars for the chicken, two sides, and a muffin.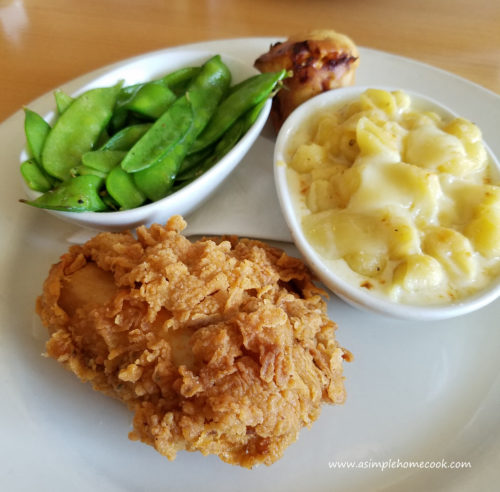 My daughter and husband ordered the soup of the day, Gumbo. My husband actually ordered the soup and salad option. When it came to the table, I must admit I got a little envious of how good his salad looked. Both of their dishes also were served with the cheesy muffins.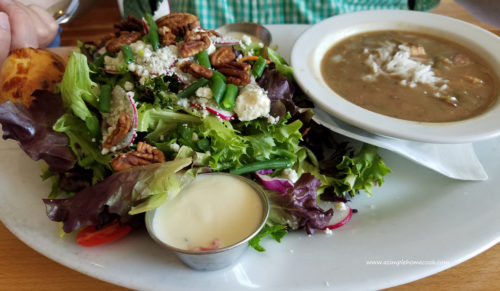 They both said the gumbo was very good.  They also liked the muffins.  On the other hand, I did not enjoy the muffin – to each his own.
I loved that they listed the sources of much of the food on the menu and website.  I love even more that much of the food is locally sourced.
I did not get a picture of the lunch item that most impressed me – the water. Public House served cold water in bottles that they fill using a reverse osmosis system. Normally, I am not a fan of the taste of Chattanooga water, but the system eliminated everything I don't like about the water. The water tasted great and was very refreshing.
The service was very friendly, attentive, and fast.  The atmosphere was light and relaxed, but not overly casual.
There is plenty of parking directly behind and behind and to the right of the building housing the restaurant.  It is pay parking, but paying for parking in Chattanooga is common…especially the closer you get to the heart of downtown.
We found Public House to be a great place to have lunch.