The cooler weather has me thinking about going to Lieper's Fork, Tennessee to listen to some great music as I eat my lunch at Puckett's Grocery. Why? Maybe it is because I have not been there since the weather was cooler many months ago. Maybe it is because the food was warm and tasty. Maybe it is because I have failed to share my experience with you before now.
Puckett's Grocery of Lieper's Fork is the original location of what a restaurant/store/music venue that has now expanded to multiple locations in the greater Nashville area. However, unlike Ichaban's in Hixson, TN, the owners who started this version of the enterprise sold this original location while continuing to operate and expand the subsequent locations.
Although I had never been to Puckett's when it operated under either of its two previous owners (it was originally started in 1955 as a grocery store/gas station until it was sold in 1998), I can tell you that I think the current owners (they bought it in 2008) have a terrific place.
On this trip, we had lunch. My husband ordered the pulled pork, baked beans, and mashed potatoes with gravy. He loved everything except the mashed potatoes. He failed to notice the potatoes came with a creamy chipped beef gravy when he ordered, so he was afraid to try them because of his milk allergy. My daughter and I divided them between us instead…they were great.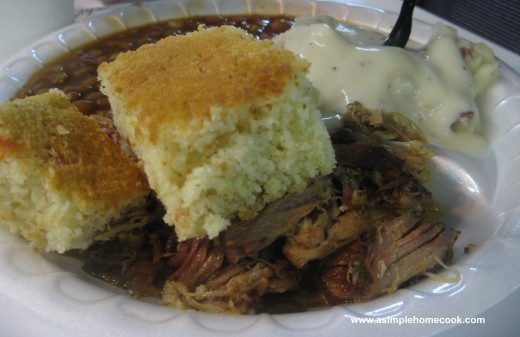 I ordered the meat plus two as well. I just can't remember (or tell from the picture) if the meat was brisket or ham…I am hanging my head in shame.  I do remember it was tender and moist. I also remember that the mac and cheese was very good. Unfortunately, I also remember that the squash casserole was not good; it was the only thing we ate that none of us liked. However, the corn bread (which everyone had) made up for the one dish we didn't like…it was moist, slightly sweet, and some of the best I have had at a restaurant in a very long time…if not ever.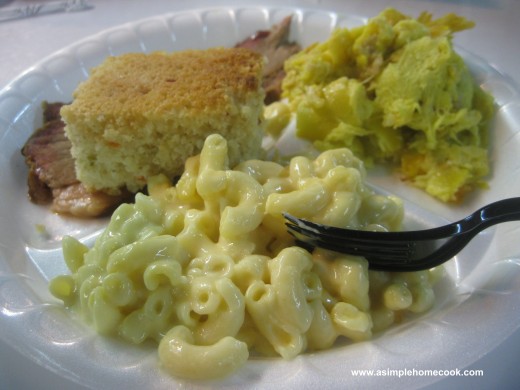 Beyond the food, the atmosphere is wonderful.  The older building provides a warm, old-fashioned environment to enjoy the food and, if your there at the right time, live music.  We just happened to be there just before noon on a Saturday and to listen to a wonderful musician for no extra charge…it was a terrific experience for the entire family.