Do you have leftover pork from the backyard smoker, a crockpot pork roast, or maybe a local barbecue joint? Making pulled pork egg rolls is a great way to use previously cooked pork for a delicious casual appetizer or snack.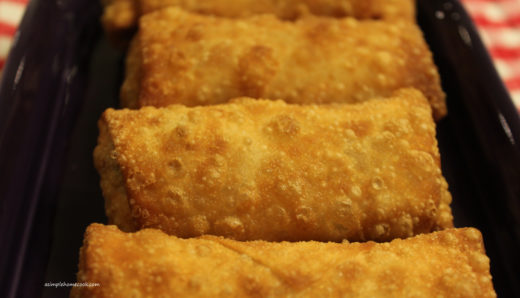 A simple filling of pork, corn, black beans, and bell peppers lends itself to a Southwestern or barbecue meal or snack. The rolls are a great addition to a Southwestern theme when served with Queso cheese or salsa dip. On the other hand, the rolls are wonderful for a backyard barbecue when served with a barbecue sauce.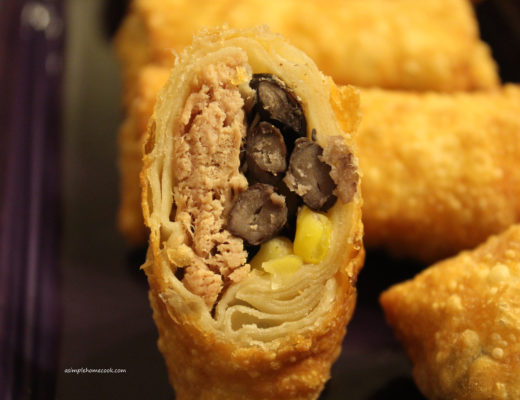 Ingredients
1 pkg. frozen egg roll or spring roll wrappers
1 c.. black beans, rinsed and drained if using canned (drained if using cooked from dry)
1 c. whole sweet corn, rinsed and drained if using frozen (drained if using canned)
1/2 med. bell pepper (red, yellow, orange, or green), diced* (optional)
1 1/2 tsp. adobo seasoning mix
1/2 lb. pulled or chopped pork
1 Tbsp. corn starch
1 Tbsp. water
Queso cheese, salsa, picante, barbecue sauce, etc. for a dip
Instructions
Thaw egg roll wrappers according to package directions.
Separate sheets to make them quicker to fill and keep covered with a damp towel to prevent wrappers from drying out.
Combine beans, corn, pepper, and seasoning in a bowl.
Mix cornstarch and water to form a paste
Select one egg roll wrapper and place in front of you so that it is a diamond shape. Place some of the pork in the middle of the lower 1/4 of the wrapper. Add about a tablespoon of the black beans, corn, and *pepper on top of the pork. Tightly place the wrapper corner edge over the filling and roll away from you. Fold in ends of wrapper toward the center and continue to tightly roll the wrapper around the filling being sure that the wrapper does not extend beyond the end of the filling.
When almost at the end/the opposite corner, dip you finger in the cornstarch mixture and coat the corner and remaining exposed edges.
Seal the corner to the rolled wrapper.
Repeat with remaining wrappers/filling.
Fry a couple at a time in 350 to 360 degree oil until nicely browned.
Lay on paper towel lined plate or cooling rack after removing from oil.
OR, you can spray them lightly with oil and bake them in a preheated 425 degree oven for 15 - 20 minutes until browned.
Serve warm with dipping sauce: barbecue, melted cheese, salsa, sour cream, etc.
https://www.asimplehomecook.com/pulled-pork-egg-rolls/
2017