Inspired by the delicious small-batch pumpkin ice cream at Clumpies in Chattanooga, I decided to make my own pumpkin ice cream for Thanksgiving.  Despite my winging the recipe, it turned out great!  Dare I say it…I think it may have even been better than Clumpies.
Frankly, I think I like it better than pumpkin pie (granted it needs mounds of whipped cream to really make it better because the whipped cream is my favorite part of pumpkin pie). Plus, it cost me less than making a pumpkin pie.  Now, I just have to come up with a dairy-free version for my husband 😉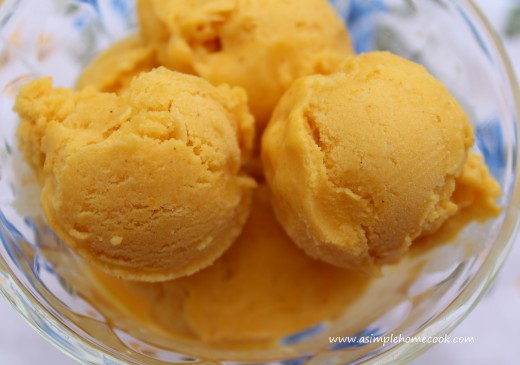 To make it I just started with my standard vanilla ice cream recipe and added pumpkin and spices while cutting back on the vanilla.  I use pasteurized eggs, so if you don't have them available you will need to heat the base to 165 to 170 degrees F and allow it to cool before adding the pumpkin and putting it in the ice cream maker.
Ingredients
3 eggs
3/4 can of evaporated milk
1/2 to 3/4 c. whole milk
1 tsp. vanilla
15 oz. pumpkin puree
1 to 1 1/2 tsp. pumpkin pie spice (to taste)
1/4 tsp. salt
Instructions
Beat eggs on high until fluffy.
Add milk and vanilla and beat again until foamy.
Mix in pumpkin, spices and salt until well incorporated.
Pour into ice cream maker following manufacturer's directions to freeze.
Remove from maker and place in a container in the freezer to set up more firmly.
Makes 1 1/2 to 2 quarts.
Notes
Note: If you have leftover mix, put it into a greased ramekin or other oven-proof baking dish and cook at 425 for 10 minutes then lower temp to 350 and continue baking until the custard mixture has set. Let it cool before eating.
https://www.asimplehomecook.com/pumpkin-ice-cream/
2017