I often cook more chicken than we will use in one meal just to use the leftovers in other dishes. One of our favorites is this simple, quick dish.  No leftovers?  No problem.  You can purchase rotisserie chicken and have this dish on the table in no time.
When I have more time I make more of the ingredients for the enchiladas from scratch.  When I am in a rush I use more canned ingredients.  Both methods make a filing and tasty dish.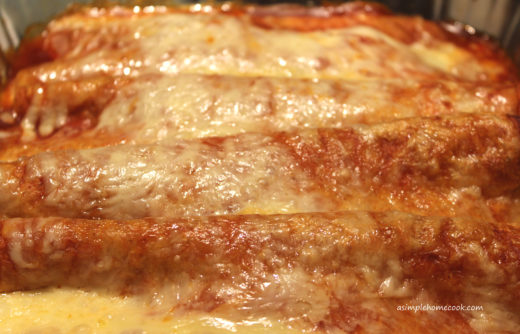 These may not be authentic enchiladas, but by using whole wheat tortillas you can skip the step of frying the corn tortillas to soften them up.  This saves on time and mess.  Plus, I always feel I am cooking healthier when I use whole wheat and avoid frying…until I add the cheese.  (Yes, I know that corn tortillas are just as, if not more, healthy as whole wheat ones in many ways).
Chicken and Bean Enchiladas
Ingredients
8 whole wheat tortillas
2 boneless chicken breasts (or equivalent), cut up or shredded
1 c. or can cooked black beans (or other bean of choice)
8 - 10 oz. Monterey Jack or other cheese that melts well, shredded
1 onion, small chop or dice(OPTIONAL)
2 c.OR 1 can red enchilada sauce
Instructions
If using onion

, lightly saute it just until soft.
Preheat oven to 350 degrees.
Coat the bottom of a 9X13 inch baking dish with enchilada sauce.
Drain and rinse beans, if using canned.
I you want, coat the chicken with 1/2 to 3/4 c. of enchilada sauce. (I don't usually do this)
Place desired amount (perhaps 1/4 to 1/3 c.) of chicken, black beans, and a little cheese in a line toward the middle of the tortilla.
Pick up the edge of the tortilla parallel to the line of filling until it just covers the filling. Tuck it under the filling while pulling it back toward yourself. And roll up the enchilada.
Place enchiladas seam side down in the baking dish and against each other until the baking dish is full.
Pour the remaining enchilada sauce over the tortillas completely coating the tops of the tortillas.
Top with remaining cheese.
Back about 15 minutes until cheese has melted.
Notes
I often do not use onion in the filling. You can make this dish faster if you don't include it. The enchiladas taste great with or without it.
https://www.asimplehomecook.com/quick-chicken-and-bean-enchiladas/
2017