There are many butternut squash recipes on the Internet. I have a couple in my cookbooks. All of the ones I read require you to cook the squash (usually by roasting it) before constructing the soup. While this is not difficult and does guarantee a fresh flavor, it does make the soup more time consuming.
I found butternut squash in a can on sale and decided give it a try. The result, an easy, quick tasty butternut squash soup in a fraction of the time.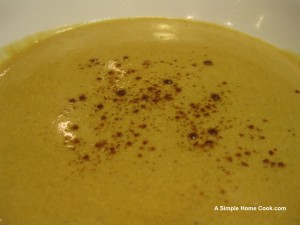 I used organic butternut squash puree. There was only 5 mg of sodium in the 15 oz. can. The only ingredient was organic butternut squash. To me, it was just the same as roasting my own minus the hassle.
My recipe is a mixture of several I found including the one on the back of the can. The can called for 1/2 tsp of baking soda to be included at the beginning. . . I did not include it. I do think I will try it again and add it the next time to see what kind of an impact it makes. It was the only recipe I read that included baking soda. . .and I read many, many recipes.
Here is my version:

Recipe: Quick Butternut Squash Soup
Ingredients
1 diced small onion
1 Tbsp. butter
1 1/2 c. vegetable or chicken stock (unsalted)
1/2 – 3/4 tsp. salt 15 oz. pureed butternut squash
1 – 1 1/2 tsp. cinnamon
1/8 tsp. or less pepper
1 c. whole milk or half and half
4 oz. cream cheese (5 oz. if using whole milk)
Instructions
Saute onions in butter in bottom of medium pot until softened and somewhat translucent.
Add vegetable stock and salt.
Bring to a brief boil.
Add squash, cinnamon, pepper, milk, and cheese.
Use a submersion blender to puree soup mixture. If you do not have a submersion blender, you can transfer ingredients to a regular blender either before cooking completely or waiting until soup is done.

Cook for about 10 minutes.
Be careful not to allow soup to boil.
Serve with a little more cinnamon on top.
Quick Notes
Add salt, cinnamon, and pepper to taste. Use more cream cheese for a richer soup, less for a less rich (and thick) soup.
Variations
Many recipes call for diced carrots.
If you want to add them, just cook 1 or 2 with the onions.
For a sweeter soup, add a couple of tsp of brown sugar at the end of cooking.