A great deal on pickling cucumbers at a local farmer's market was more than I could resist. I decided to make a two easy types of pickles that did not require canning…my mom's freezer pickles and a refrigerated version of my husband's mom's bread and butter pickles.
If I'd known that bread and butter pickles were this easy to make, I would have made them before now.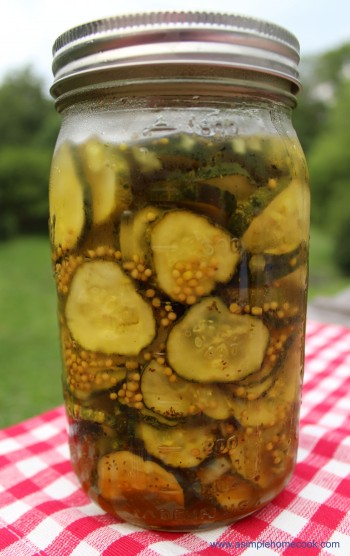 I also did not realize that the yellowish color of bread and butter pickles came from turmeric. We are really into the possible health benefits of turmeric at my house, so these pickles are an ideal sweet snack for us.
This recipe easily be doubled or even tripled. While the spices can be adjusted to any level to suit your preferences, the ratios of sugar, salt, and vinegar can be a little trickier. They can be adjusted to be less or more sweet more freely because they are being kept in the refrigerator; however, the levels of acid and sugar are very important to proper preservation if you are going to can them for storage. If you want to can them, check with a canning book or another recipe for canning to assure that the levels are proper to safely preserve the pickles.
Copyright © 2014.
Recipe by Paula, A Simple Home Cook.