Whether you call it a hot roast beef sandwich, an open-face roast beef sandwich, or a roast beef Manhattan, it is warm, wonderful comfort food to me.
Traditionally in my family, we referred to it as a hot roast beef sandwich. However, some menus of local restaurants listed it as an open-face sandwich. It would often be served with one slice of bread, roasted meat, and mashed potatoes. All of the components would be smothered in gravy. It was not until we started ordering it in the Amish Country of Ohio that I remember it being called a Manhattan. The Manhattan version always has a second slice of bread atop the roast meat. The Manhattan also always is served with the roast meat sandwich forming a "V"-shape and the mashed potatoes in the middle.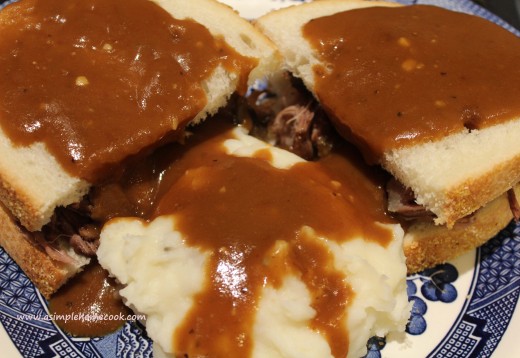 This hearty dish is a great dish for a cold,  rainy fall day. In fact, it is such a hearty dish that you may want to consider offering half sandwich portions to your family and friends as the plate is very filling.
Although this "recipe" is for the roast beef version, you can just substitute roast pork or turkey instead of the beef and beef gravy for other versions. Chicken, vegetable or beef stock works well for making the gravy for the roast pork version. Chicken or turkey stock work well for making the gravy for the turkey version.
This is one of those plates that can utilize a lot of shortcuts or absolutely none and everything in between. I tend to use just one or two purchased shortcuts: I usually buy a locally baked loaf of bread and occasionally I buy refrigerated mashed potatoes.
I also use another type of shortcut: I often cook the roast meat (and sometimes the mashed potatoes) ahead. While this may mean using leftovers that I have refrigerated (especially for the mashed potatoes), it usually means that I cook up to three roasts at a time and freeze all that I do not use. Yes, this is a hefty monetary investment upfront. However, I can fit three larger to average chuck roasts or two pork roasts in my roasting pan at a time, so why not utilize the space and save myself hours of cooking time later. Although roast beef Manhattans are not a frequent meal at my house, they are a snap to fix if you have an already cooked roast in the freezer.
Roast Beef Manhattan a.k.a. Hot Roast Beef Sandwich
Ingredients
Roast (or use already cooked meat or poultry)

1 chuck roast
2 - 3 tsp. seasoned salt
1 - 2 Tbsp. oil
2 onions, peeled and cut into wedges
12 oz. Sprite, 7-UP or similar soft drink (and/or beef stock)
Gravy

3 Tbsp. fat from roasted meat and/or butter
3 Tbsp. flour
16 oz. beef (chicken, turkey or vegetable) stock
Salt, to taste
Montreal steak seasoning or a mixture of black pepper, onion powder, herbs, etc., to taste
1 Tbsp. +/- Worcestershire sauce or 1 tsp. +/- Kitchen Bouquet (optional)
Sandwich

Quality sliced bread (white bread is traditional)
Mashed potatoes
Instructions
Roast

Evenly sprinkle seasoned salt on both sides of roast (size of roast will determine how much salt is needed).
Place oil in a Dutch Oven or skillet on medium-high to high heat.
When oil is hot, add roast and brown on both sides.
If using a Dutch oven, leave the roast in the pot. If using a skillet, remove roast and place it in a roasting/baking pan or a crock-pot*
Add onions around the meat.
Season onions and roast with more seasoned salt.
Pour enough soft drink and/ or beef stock over and around the meat and onions to about 1/3 to 1/2 of the way up the side of the meat.
Cover (if using a roasting/baking pan, seal with foil).
Place in a 325 degree oven for 3 - 4 hours or until roast is very tender. (Use a fork to test).
*If using a crock-pot, follow directions for oven roasting except cook on low for 6 to 8 hours.
Gravy

Melt butter or fat in a skillet.
Sprinkle and whisk in flour.
Stir for a minute or two to cook the raw taste from the flour.
Slowly whisk in the stock.
Add salt and dry seasonings to taste.
Add Worcestershire sauce or Kitchen Bouquet, if desired.
Bring to a boil, lower to a simmer and cook for a few minutes until desired thickness is reached.
Sandwich

Place warm, shredded (or sliced) roast beef on a slice of bread. Top with another slice of bread. Cut roast beef sandwich in half and place in a V-shape on a plate.
Place a scoop of mashed potatoes inside of the V.
Spoon/Pour the gravy over the sandwich and mashed potatoes.
Serve immediately.
Notes
The mashed potatoes can also be placed atop the sandwich especially if you elect to only use one slice of bread.
https://www.asimplehomecook.com/roast-beef-manhattan-a-k-a-hot-roast-beef-sandwich/
2017