I purchased a bunch of very small yellow summer squash at a local farm.  I wanted to make them for dinner, but I did not have much time to cook.  Normally, I would have made them into cooked squash, but my husband needed to be able to eat them and I don't like cooked squash made with almond milk.  Plus, they were too cute to cut them up.   I thought about roasting them whole in olive oil  by putting a few slits in them like I would with eggplant for baba ganoush.   However, I could not imagine that they would taste very good.    Finally, I thought to split them and top them with the same topping as my mom's onion and cheese appetizers.  Although I am convinced that  it would be delicious, I still didn't have the time.  So, I decided to combine my thought of roasting the squash in olive oil and a couple of the appetizer ingredients: mayonnaise and cheese.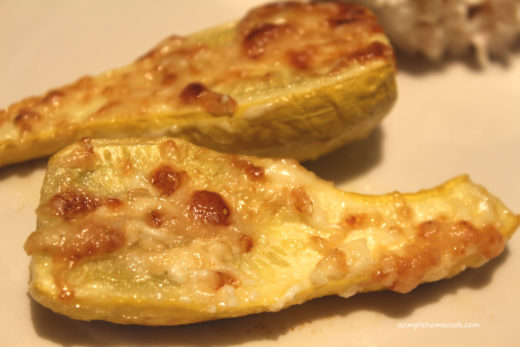 The result was a delicious side that was super easy to through together in just a few minutes and be on the plates after less than 15 minutes in the oven.  It turns out that these would probably make great casual finger foods as well, because we found ourselves eating these very small squash with our fingers without really thinking about it.
I have only made this recipe using small squash.  The halves pictured above are some of the larger one I made and they were very small on a 10-inch plate.  I do not know how well larger squash will work, but I will let you know when I find out.  If you find out  before me, let me know.
This new recipe is right up there with cooked squash as my favorite way to eat yellow summer squash.  I think it may have even replace fried squash as my husband's favorite.
Roasted Summer Squash Halves
Ingredients
8 small summer squash
1 to 2 Tbsp. olive oil
1/2 tsp.kosher salt
1 1/2 Tbsp. +/- mayonnaise
grated/shredded Parmesan or similar cheese, to taste
Instructions
Preheat oven to 400 degrees. F.
Wash and dry squash.
Cut off stem and blossom ends of squash, if desired.
Cut squash in half lengthwise.
Place all the halved squash in a bowl and sprinkle with salt and olive oil. Turn/Toss to coat all halves lightly in oil.
Place on a foil lined rimmed baking sheet.
Spread each half with a thin layer mayonnaise.
Top each half with the grated/shredded cheese.
Bake until squash is tender and cheese is lightly (or golden) brown. Baking time varies with size of squash,expect 12 to 15 minutes for small squash.
https://www.asimplehomecook.com/roasted-summer-squash-halves/
2017