These sweet and sour meatballs have been my "go to" food.  It is one of those dishes that I can take to a potluck or other event knowing I probably will not have to deal with any leftovers.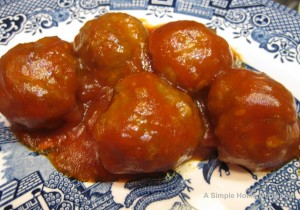 This is a great recipe for an party or a potluck because it keeps well in a crock pot and can be in bite size portions.
However, it also works well in a dinner entree.  The leftovers store well and taste great the next day. In fact, I think it tastes better the next day.

Recipe: Sweet and Sour Meatballs
Ingredients
5 slices dry bread
2 lb. ground beef
½ c. grated onion
½ tsp. garlic salt
¼ tsp. pepper
1 tsp. salt
2 eggs, slightly beaten
Sweet and Sour Sauce for beef
Instructions
Cut bread in cubes.
Soak in a little cold water until very soft.
Squeeze out water.
Combine with remaining ingredients, except Sweet and Sour Sauce.
Shape in balls the size of walnuts.

Place in pan and bake at 450 degrees for 18 to 20 minutes.
Place balls in Sweet and Sour Sauce and simmer for 10 minutes
Sweet and Sour Sauce
Ingredients
1 qt. tomato juice
1 c. brown sugar, firmly packed
¼ c. vinegar
½ tsp. salt
1 tsp. grated onion
10 gingersnaps, crushed
Instructions
Combine all ingredients.

Cook to boiling.
Allow to boil long enough that it clarifies some before adding meatballs.
Makes enough for meatball recipe.
Quick Notes
Baking meatballs on a foil lined baking sheet makes clean up easier.
Gingersnaps can be crushed by placing in a zippered plastic bag and pounding with a mallet or rolling pin or by using a food processor.
Variations
Ground turkey or chicken can be used instead of beef.
Meatballs and sauce can be combined in a crock pot and cooked after the meatballs are baked and the sauce has boiled.