One great Christmas tradition is to have a Yule Log as a Christmas treat. I have made them in the past, but mine were just average in taste and never looked nearly as good as the ones from Servatii's Pastry Shop and Deli in Cincinnati, Ohio.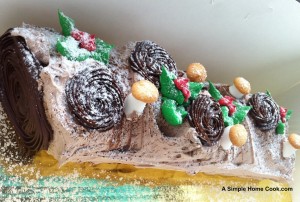 I imagine they never tasted as good either. Servatii's has excellent baked goods.
This yule log is my sister's for her family. If she was very nice, she would travel the hundreds of miles to my house to share with me. Alas, she is not coming here. I guess I will just have to make do with whatever I bake.
Servatii's has several locations in the Cincinnati, Ohio area.
Note: I was not compensated or solicited in any way by Servatii's. The opinions and experiences expressed here are strictly my own.