No, city chicken did not originate in the 1970's. As I mentioned in an earlier post, these are recipes that were introduced and made in my house growing up in the 1970's.
If you are not familiar, city chicken is not chicken at all. It is actually pork and veal or just pork cubes on wood skewers. Sometimes it is referred to as mock drumsticks or mock chicken legs.
If you have never heard of it before, it may be that you never lived in a part of the country where it was popular. It apparently was/is a regional dish that covered a fairly large region including parts of WV, OH, western PA, western NY and MI.
In the 1970's, it was sold ready to cook on wooden skewers in most grocery stores and butcher shops in our little city.
I remember helping my mom make it in her cast iron skillet, just like she made fried chicken. She never used a recipe, but I found one (two, actually) in my Taste of Toronto , Ohio that is cookbook.
Here is my adaption: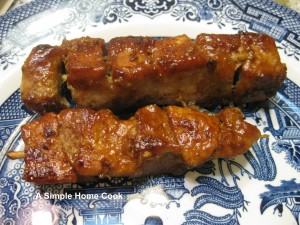 Recipe: City Chicken
Ingredients
1 1/2 lb. pork
1 1/2 lb. veal
3/4 c. flour
salt, to taste
pepper, to taste
1/3 c. vegetable oil (I use Canola oil)
1/2 to 3/4 c. beef or vegetable stock
Instructions
Cut pork and veal into fairly uniform size cubes.

Place pork and veal cubes on shorter wood skewers by alternating them and pushing them together until the skewer is filled.

Season each skewer with salt and pepper.
Roll each city chicken in flour.

`

Heat oil until hot in a heavy pan.
Add city chicken skewers and fry until golden brown.

Drain off excess oil.
Add stock to hot skillet.
Add back city chicken and cover.
Turn burner to low-medium and simmer for 30 to 45 minutes.
Variations
If you do not have "wooden skewers" you can shorten bamboo skewers with kitchen scissors to size after putting on meat.
You can dredge city chicken in flour, dip in beaten eggs/water or eggs/milk, and then roll in cracker or bread crumbs before frying instead of just flour.
You can use just pork.
Water may be used instead of broth.
You can place city chicken in a baking dish after browning and bake at 325 for an hour in broth, water, or milk.
I know that city chicken may bring the recent trend of raising chickens in your back yard to mind. This is the city chicken before it was a trend to raise your own chickens.