In honor of the birth of my little sister, I decided to do seven recipes that were popular in our house during the decade in which she was born.
Not all the recipes originated in the 1970's. They were introduced and popular in our house in the 1970's….
The first one is super simple, Watergate Salad.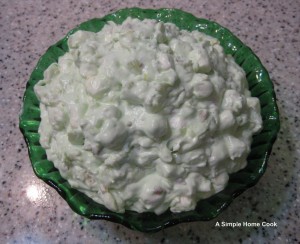 According to http://www.foodtimeline.org/foodsalads.html, the recipe originated the same year as instant pudding came on to the market. It also happens to be the year my sister was born 🙂
This recipe is taken directly from the Jell-O instant pudding box.

Recipe: Watergate Salad
Ingredients
1 (20 oz.) can crushed pineapple, undrained
1 small package pistachio instant pudding
1 1/2 c. thawed COOL WHIP whipped topping
1 c. miniature marshmallows
1/2 c. chopped pecans
Instructions
Combine all ingredients.
Refrigerate for an hour or more.