The reason I have two shrimp stuffed mushroom recipes is simple:  my husband.  He really can't eat the first version I made and loved.  He has an allergy to a milk protein that causes him misery whenever he consumes milk, cream, soft cheeses, etc.  However,  if that milk protein is changed enough through heat or cultures, he can have products that contain dairy.  Why am I explaining all this when all you want is a recipe?  Well,  I wanted to  explain why…despite my husband's allergy…the second recipe also contains cheese, cheddar cheese.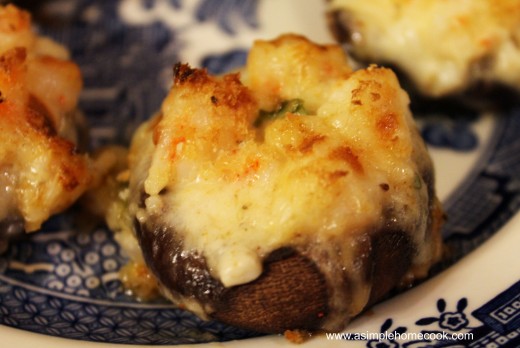 The cheese makes these shrimp stuffed mushrooms melted bites of goodness.
I prefer using white cheddar cheese in this recipe, but yellow cheddar or a similar cheese could be used.
I have just one warning: these go fast, so be sure to make enough…or get yours early 🙂