Until recently, the only poached pears I was familiar with were poached in wine.  The one time I had them did not turn me into a fan.  I guess I do not like wine enough to enjoy my dessert fruit poached in it.
However, I recently read about pears poached in just a simple syrup with  star anise and cinnamon. It was just something I read in passing, not even being able to recall where I saw it.  Although, I did start to frequently think about trying to make poached pears…okay, I'll admit it…I became obsessed with making poached pears.
I finally found appropriate pears at a very good price (yes, I am that frugal) and poached them.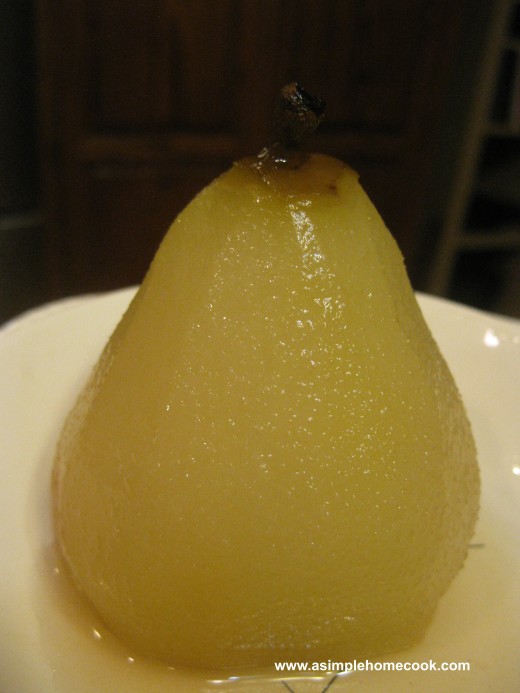 I really do not enjoy star anise enough to use it for flavoring, so I decided to use just the cinnamon.   My husband suggested that I also add a little almond flavoring as well.   He even got down the almond extract and the Amaretto from the top of the cupboard.
I thought we should use vanilla syrup instead.  It was still at the top of a cupboard, and I did not want move the step stool (I have tall cabinets for my height) again to get it.  I used the amaretto.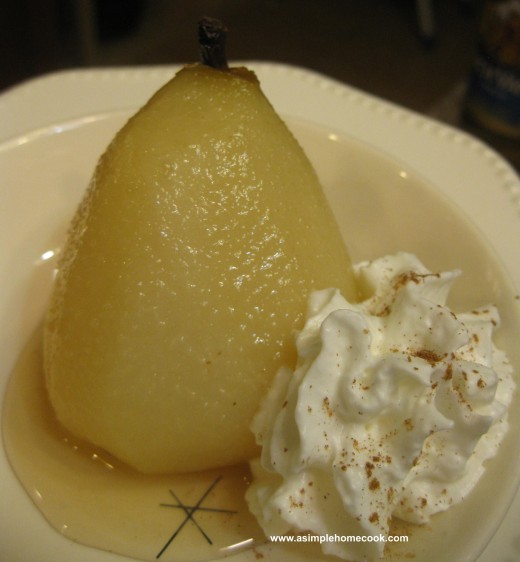 Although they are delicious without anything else, whipped cream is not the only topping or side possible. How about homemade hot fudge sauce (plain, not peppermint) on the poached pear? You could also add sliced or chopped almonds or other nuts, dried fruit to the poaching liquid while it is still warm, serve cold or warm with ice cream or sorbet, and more.
Enjoy!