It stikes me as rather odd that a simple taco salad now holds many memories and takes me back to practically another lifetime. I have no concept of how many taco salads I have consumed in my lifetime, but I do know that there were many. Almost all of them were ordered in restaurants and cafeterias; most of them served in edible tortilla bowls. It was not until the food service/cafe at the college where I worked started serving them as a lunch special. It was there that they served what they called a taco salad that was like a large taco-in-a-bag without the bag.
Ben, the cook, would crush tortilla chips on to your serving plate and then pile on the ground beef, cheese, and whatever other toppings you wanted. I would later come to find that this type of taco salad is also called a haystack…a taco haystack in this case. The term haystack means different things to people depending on where you live, predominant religions in your area, and whether you are cooking sweet or savory haystacks. To me, sweet haystacks are a couple of different types of candy. On the other hand, savory haystacks have a starch, a protein, and vegetables.
I was more familiar with an Amish/Mennonite savory version and the taco haystack is more the Seventh Day Adventist version (except it may have meat). They are both piled on a plate like a haystack and good for serving a crowd.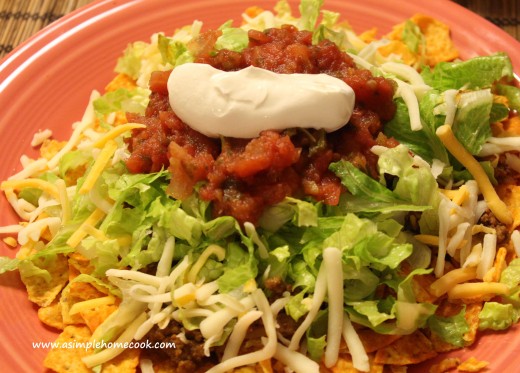 This is a very flexible dish. You can add and omit ingredients to suite your preferences. Don't eat red meat? Use chicken instead of beef. Vegetarian? Make it without the ground beef.