One of the most amazing dining experiences I have had recently was in Marietta, Georgia at Pappadeaux Seafood Kitchen. Although it is a part of a larger restaurant group with fairly limited in number of locations, we had beyond great service and food.
I had read some very good reviews online and thought my husband would really like their selection of Louisiana-style dishes. Turns out, all three of us really enjoyed our meal.
Our service provider was personable, friendly, and helpful in selecting what to eat.
We took his advice on the appetizer and main courses we ordered and loved them.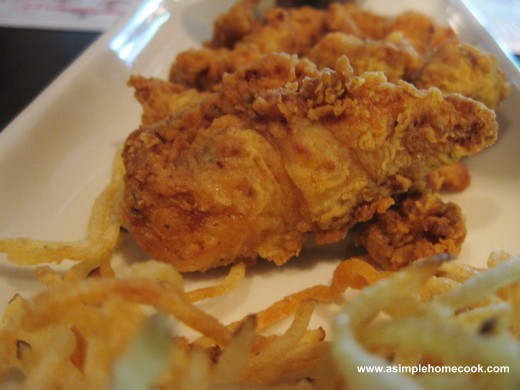 We splurged (it had been a rough 36 hours prior to dining there) and ordered an appetizer. We decided on the fried alligator…a first for everyone in my family. It was tender and tasty, but not greasy. (Yes, I could not help but think it tasted a little like chicken 🙂 ). My five year-old had to be coaxed a little, but she ate it and really liked it (although it was a little too spicy for her).
My daughter does not usually like deep fried foods much, but I found out that most things on the kid's menu could be ordered grilled instead. However, she wanted salmon, which was not on the kid's menu, so I decided to split a dish with her at the server's mention that they were generous with their portions (that was an understatement). He also suggested a salmon dish that was not on the menu….it was the best salmon dish I think I have ever ate.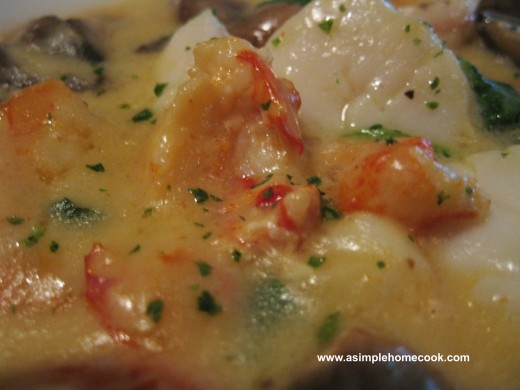 I got the sauce/topping on the side in case my daughter did not like it at the servers suggestion. It was a delicious blend of crawfish, scallops, mushrooms, and other items in a wonderfully light sauce. My daughter? She ate it and the salmon liking everything. (We still had a lot of leftovers). To be honest though, my daughter said she liked salmon much better when I cooked it. . .yes, she is sweet.
My husband wanted crawfish and took the suggestion of server to order the crawfish platter. He said it was fantastic. However, it was even too much for even him to eat.
Despite this being a splurge meal for us, it was actually a couple of meals for us in the end 🙂
Although Pappadeaux Restaurants are concentrated more in Texas, there are a few around the Atlanta area. Plus, one can be found in Illinois, Ohio, New Mexico, Arizona and Colorado. For more information, check out their website.
It was a great experience that I am looking forward to repeating!