It seems there are almost as many ways of cooking turkeys as there are people who cook turkeys…brine, fry, barbecue, smoke, etc. I like them all; however, some of the methods are very time consuming and involve extra tools and/or ingredients. To me, they are great for a special occasion (with the exception of an already smoked turkey as someone else has done most of the work).
For the day-to-day (or month-to-month would be more accurate in my case) cooking of a turkey, I often fall back to simply roasting the bird. I either use an oven bag or I use high/low temperature roasting.
The oven bag was my mom's preferred method (well, after they started making them) and it is an easy way to get a moist turkey quickly roasted. My husband loves the crispy skin on the poultry, so I started roasting turkeys a bit more like his mother (she tents hers with foil in a roasting pan) since we've been married.
Lately, I have been using a high/low temperature method of roasting that usually does not even require any foil.  I originally used this method when roasting a chicken after reading the directions on its plastic wrap. It turned out so well that I decided to try it with a turkey, since then it is the most common method I use.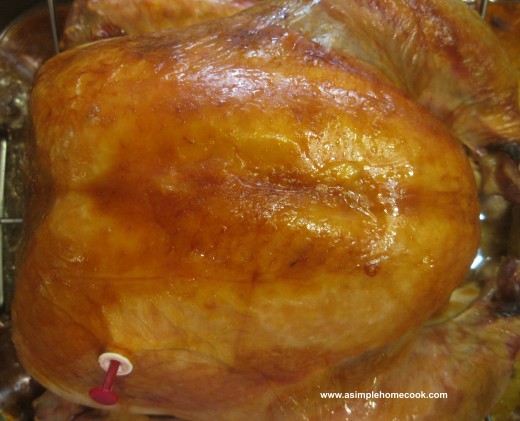 As with any roasting method, you can still overcook the turkey if you don't monitor its internal temperature closely enough.   Although many turkeys come with pop up "timers" (they actually react to  temperature instead of time),  I think it is much better to rely on using another accurate thermometer as well.
It is just too easy to over cook the turkey when only relying the "timer" to pop up. However, despite my cynicism about the pop up, I must admit that I think this one might be worth its cost just for the entertainment value alone…especially if you a roasting a heritage or other turkey that does not come with a pop up.


With an instant read themometer, you can check the temperature in the breast and thigh meat to make sure the turkey is safely cooked before it gets overdone. A quality instant read probe thermometer can range from nearly a hundred dollars to just a few dollars. Here are my favorites:


The process of preparing and roasting the turkey is rather straight forward and does not require much attending once in the oven, except for turning the temperature down.