On Route 21, just outside of Charleston, West Virginia is a small hot dog stand called Skeenies. They have been a favorite of mine since I was six years old.
My parents started taking me to an allergy specialist in Charleston when I was six after I had some major allergy issues. It was before the Interstate was finished, so part of the trip was spent travelling Route 21. Stopping at Skeenie's was my treat for the long trip.
There hot dogs were wonderful.
Today, the Interstate is complete. It by-passes Skeenies and the many other businesses that used to be on Route 21. However, Skeenies has not changed much. They used to be called Skeenies Weenies. The building looks a little different. Their parking lot is now paved, but their hot dogs are still as yummy as I remember.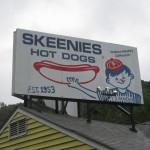 I still do not like hot dog sauce made by anyone other than my mother or my sister, so I can not speak for how the sauce (aka. chili) tastes. I can say that the quality of the hot dog itself is still wonderful. They are served in soft buns.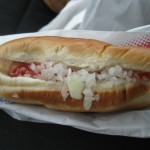 I am 99.99% certain their slaw was homemade. I am picky about slaw and theirs was divine.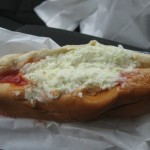 They may not be the prettiest hot dogs, but they make up for looks in how they taste. The building and area you find them in may not be the prettiest to look at either, but they are worth the short trip off the Interstate.
Based on the number of cars/customers there in the middle of a rainy Sunday afternoon the last time I was there, many people think these hot dogs are delicious.