Today's post is brought to you by my husband.  He loves French onion soup and has had time recently to play around with making it in a slow cooker.  His biggest lesson learned about making any kind of French onion soup is to TASTE EACH OF THE ONIONS YOU USE IN THE SOUP TO MAKE SURE THEIR FLAVOR IS WHAT YOU LIKE.  He recently had a whole batch of soup ruined by an extremely strong, aggressive onion.
He uses a couple of different types of onions, but it can be made with just one of the types if you prefer.  Or, you can add a third type to the mix, the red onion.  I think different types of onions just seem to add a little more complexity to the flavor of the soup.
For me though, the most important part of the soup (and my favorite part) is the cheese.  While you can use a wide variety of cheeses, the Swiss Gruyere or a similar cheese is a classic complement for the soup.  Whatever cheese you select needs to melt easily and evenly and have a flavor that will hold up against and compliment the intensity of the soup.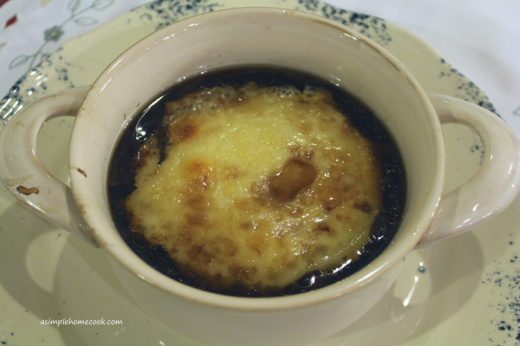 Many recipes for French onion soup call for the addition of white wine and cooking off most of the alcohol before adding the broth.   The slow cooker does not lend itself to this step, thus the this recipe calls for the addition of an acid in the form of a vinegar.  Balsamic vinegar is a favorite of my husband. Any slightly sweet vinegar can be substituted. If it is similar to balsamic in flavor profile (sherry or Chinese) keep the amount the same. If it is lighter (rice wine or champagne) add 1/2 Tbsp. more.  The use of white distilled vinegar is not recommended.  Apple cider vinegar can be used in a pinch IF you add a little sugar to the vinegar before adding it to the onions.
Slow Cooker French Onion Soup
Ingredients
2 large yellow onions, peeled and sliced
3 large sweet onions, peeled and sliced
2 Tbsp. unsalted butter, melted
2 Tbsp. olive oil
2 Tbsp. brown sugar (optional)
salt
course black pepper
1 1/2 Tbsp. balsamic, sherry, or similar vinegar OR 2 Tbsp. rice wine, champagne or white wine vinegar
8 c. low sodium beef broth
3 sprigs fresh thyme or 1 1/2 tsp. dried thyme leaves, chopped
2 bay leaves
1/4 c. Marsala, Madeira, or port wine (optional)*
baguette or other harder crusted, smaller diameter bread
2 cups or 6 - 8 oz. Gruyere, Jarlsberg, Comté, Emmental, or other Swiss cheese, thinly sliced or shredded
Instructions
Place melted butter and olive oil in the bottom of a larger slow cooker (6 quarts + works great). Don't try full recipe in less than a 5 quart slow cooker.
Add one half of the onions, 1 Tbsp. brown sugar, and 1/2 tsp. salt.
Then add the other other half of the onions, the rest of the brown sugar, 1/2 tsp. salt, and desired amount of black pepper.
Turn crock pot on low, cover, and let cook for at least 10 hours or overnight until the onions are very soft and a rich, golden brown.
When onions are cooked (in the morning), stir in balsamic vinegar then the beef broth.
Tie thyme leaves together with kitchen twine, if using fresh.
Add thyme and bay leaves to soup.
Replace cover and cook on LOW for 8 hours or more (6 hours min.). The longer you cook the soup, the more developed and intense the flavors. OR, you can also cook on HIGH for 4 or so hours.
Add Marsala or wine of choice, if using, 5 to 10 minutes before placing soup in bowls.
Cut baguette/bread into desired thickness and size and place place in oven to toast.
Remove thyme sprigs and bay leaves.
OPTION 1: Scoop soup into oven proof bowls and top with toast and cheese. Place under broiler on low until cheese is melted and bubbly.
OPTION 2: Scoop soup into regular soup serving bowl. Top toast on a baking sheet with cheese and place under a broiler on low until cheese is melted and bubbly. Place cheesy toast atop bowl of soup.
Serve hot.
https://www.asimplehomecook.com/slow-cooker-french-onion-soup/
2017
The slow cooker really makes the rather tedious job of cooking the onions properly an easy "set it and forget it" task.  You can start this recipe before going to bed by slicing the onions (made very easy with a food processor) and getting them cooking.  The next morning spend a few minutes adding the stock and seasonings.  Finally,  spend 10 minutes to finish the soup and melt the cheese before serving.  The total cooking time is less than what you would spend watching a stove top pot to cook the onions down in a more traditional recipe.
You can cook the soup for 10 hours (and maybe more) as long as you have a tight fitting lid on your slow cooker that does not allow too much moisture to escape.  The longer you cook the soup, the more intense, or rich, the flavor.