I can't believe that I ran into a problem writing this post over how to spell the dish. First, my husband walks by the desk and tells me he did not think I had it spelled correctly. So, I checked it by writing it in the body of the post and the spell checker flagged it as incorrect. Thus, I began online research to find out if I had indeed been incorrect all of these years. After some initial conflicting search results, I finally was able to establish that both omelette (my original spelling) and omelet (American version) are correct 🙂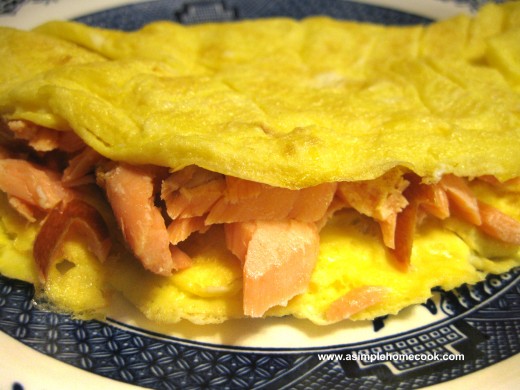 I realized today that on the occasions we have omelettes at home, it is not for breakfast. I usually fix them (or more often, my husband fixes them) for dinner. They are a filling and quick dish to put together from what is in the house in a hurry. Plus, it makes for a very inexpensive meal.
Tonight, I added some delicious honey smoked salmon to the omelettes. Between the Omega-3 rich eggs and the Omega-3 in the salmon, I felt like I was feeding my family a fairly healthy meal. Plus, my six year-old was delighted that the omelette had one of her favorite foods – salmon.