My husband had to travel to Germany for business a few months ago.  He went to a plant that made stainless steel kitchen products.
He brought me back a Spaetzle maker.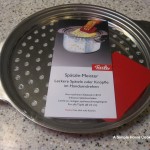 This particular Spaetzle maker is very easy to use.  You just press the loose dough through the holes using the plastic scraper.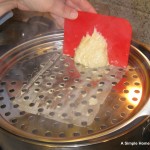 There are other versions of makers that require turning a crank.  Although they may be easy to use as well, I think one like the Kuchenprofi Spaetzle Lid & Scraper in 18/10 Stainless Steel
would be much easier to clean.
If  you do not have either, you can make it by just using a knife and plate to cut or roll the dough off of and into the water.  You probably need to watch a You Tube video to learn how though.
Spaetzle is a versatile dish that is simple to make and very quick to cook.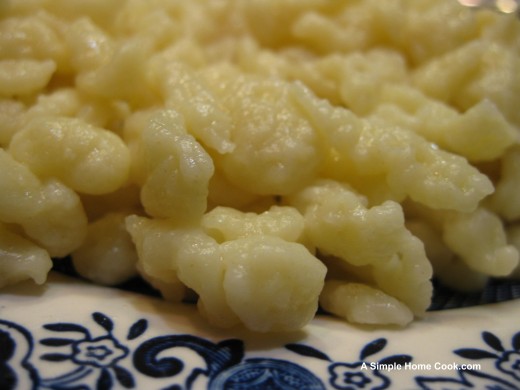 Recipe: Spaetzle
Ingredients
2 c. flour
1 tsp. salt
2 eggs, slightly beaten
3/4 c. milk
Instructions
Mix flour and salt in a bowl.
Create a well in the middle.
Add eggs and milk. Stir well.
Add more milk if dough is too stiff.
Over a large pan or pot of slightly boiling water, push dough through a Spaetzle maker or cut off of a plate.
Allow fallen pieces to cook for a couple of minutes.
When they float to the surface, they are generally done.
Scoop out with a slotted spoon or spider.
Place in a dish with some butter to keep Spaetzle from sticking together.
Repeat until all of dough is cooked.
Quick Notes
Can be served plain or with herbs, cheese, gravy, sugar, cinnamon sugar, or a variety of other sauces.
Variations
Once Spaetzle is cooked, you can saute in butter until lightly browned before serving.