Whether for a Mother's Day breakfast in bed, a weekend brunch, or a ladies lunch, a quiche is a great and rather elegant egg option because it does not have to be served immediately and piping hot to be good.  Best of all, it can be easy to make.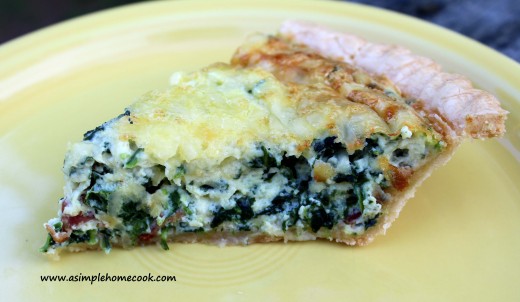 This quiche recipe has less than 250 calories per slice when using commercially frozen pie crusts for a total of 12 servings. It has less than two percent of the daily allowance for average adults of sodium and carbohydrates adult Plus, it has less than half of the daily allowance for cholesterol and fats. Note: I calculated these numbers using the specific ingredients I used, which included nitrate-free bacon, organic large eggs, and organic frozen pie crust.
You can use regular or deep dish pie crusts. I prefer the deep dish as I like having more filling, and I think it has a better texture. (I don't know that there is any difference in the texture, but it is my perception). This recipe makes 2 commercially-frozen or smaller homemade or 1+ homemade deep-dish pie…depending on the size of you pie pan.