My favorite dessert in Thai and Vietnamese restaurants is sticky rice with mango. It also happens to be one of the few Asian dishes I cook at home.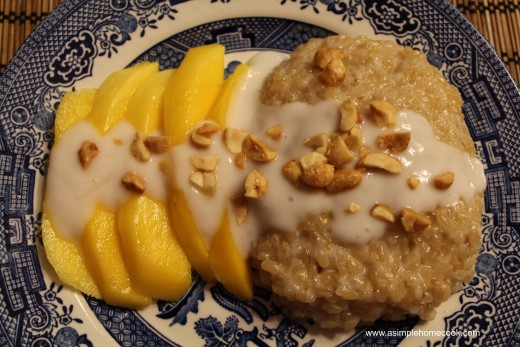 I used a short-grained brown sweet rice for the dish pictured. Although I used a different brand (I bought mine at a natural foods store), I noticed that Amazon sells Bob's Red Mill Rice Sweet Brown
that appears to be the same type.
I also use Lotus Foods Heirloom Forbidden Rice
like my favorite Vietnamese restaurant with the difference being I buy mine and they grow their own black rice. Although the rice is called black rice, it is actually purple and is a lighter shade when cooked.
You could always make sticky rice with Thai sticky rice or another glutenous white rice 🙂 I only used the other because I like the flavor, added fiber, and nutritional benefits. Plus, it is readily available where I live.
A good quality coconut milk that you like also makes a difference in your final product. (Note: The coconut milk needed is in a can or other shelf stable package. It is not the type of milk now found in dairy sections of the store). I prefer ones that do not have a thickener (like guar gum) but contain a lot of "cream," which you find on the top when you open the container. As for a brand, I usually use Chaokoh because it has a lot of "cream" and is inexpensive. However, there several brands available in most supermarkets and Asian grocery stores.
This is a dish that I have started making rather frequently when mangoes are on sale and readily available in the store. I have made it when all we had was frozen mango…it was okay, but not nearly as good. One of these days I'm going to try to make Thai custard to go with it when good mangoes are not available.
I've started the recipe with instructions on how to cook the brown rice in a pressure cooker, but you can just cook whatever rice you're using following the directions on the package of rice, in a rice cooker, in a steamer basket, etc. Just start follow the recipe after the rice is cooked step marked with an asterisk.
This recipe makes 8 or so servings. Your may want to reduce it, especially if you are only serving four people or less.