I love stuffed peppers, but I need to make a confession: I love the stuffing much more than the peppers. In fact, I usually only eat a little of the pepper. I have tried making the stuffing without the peppers and it just did not work. It needed the pepper flavoring permeating the dish to be enjoyable…or even edible.
I had hope and skepticism when I first heard of stuffed pepper soup. Perhaps it would provided me with the balance of pepper to stuffing that I liked without the guilt of leaving much of a pepper uneaten. Or, perhaps it would be another disappointment in flavor. I decided to give it a try.
After reading several recipes in a few of my cookbooks, I decided to combine my basic soup concept with my favorite stuffed pepper recipe. The result was a tasty success.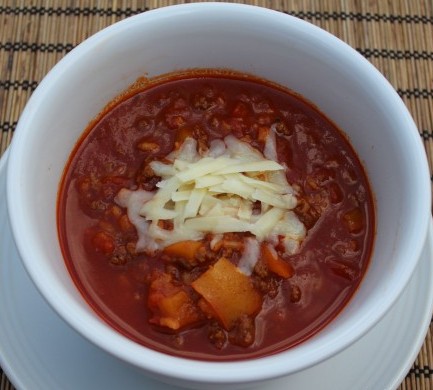 I also find that this is a great soup for a meatless, vegetarian, or even vegan meal by just substituting a couple of ingredients. Instead of the ground meat, I find that brown or green legumes are great in the soup. You can also use vegetable stock instead of beef to make it vegetarian-friendly. To make it a vegan-friendly, simply also omit the cheese or use a vegan cheese substitute.
Ingredients
1 lb. ground beef or other ground meat (2 c. cooked brown or green lentils may be substituted)
1 small onion, diced or dried equivalent
2 bell peppers (green, red, yellow, orange, etc), chopped
16 oz. beef or vegetable stock
32 oz. tomato sauce or juice
1 Tbsp. sugar (to taste)
pinch of basil
1/3 c. brown minute rice or 2/3 regular brown rice that is partially cooked (use uncooked rice if cooking it in a slow cooker)
salt, to taste
pepper, to taste
cheese (cheddar, American, etc.), shredded OPTIONAL
Instructions
In a heavy bottomed pot/Dutch Oven (or a skillet if finishing in a slow cooker, brown ground meat.
When meat is almost cooked through add onion and peppers.
Cook for several minutes and season with salt and pepper to tastes.
Then add stock.
Continue cooking until onions and peppers are softened.
(Pour into slow cooker now, if using)
Add tomato juice, sugar, basil and rice.
Adjust seasoning to taste.
Simmer until rice is tender, about 10 minutes (6 to 8 hours on low in a slow cooker).
Taste and adjust seasonings as needed.
Serve warm topped with shredded cheese, if desired.
https://www.asimplehomecook.com/stuffed-pepper-soup/
2017