Have you ever been so far behind you thought you were ahead?  Well, that is the best description of me right now.  I am so far behind on blog posts that I am embarrassed.  However, I am going to do my best to get caught up..starting in the Atlanta area (a few months ago).
One of my favorite areas of Atlanta is a more than 10 mile stretch along Buford Highway.  It is lined with strip malls and stand-alone buildings holding all kind of international fare including food.
While the cuisine along Buford Highway covers much of the world, Mexico, Central America, and Far East Asia are predominate. Many locations feature the cuisine of just one country like Quoc Huong Banh Mi for food from Vietnam, for example.  Other locations feature the cuisine of a particular region in a country, North China Eatery for food from Tianjin and Beijing.  Finally, some locations combine cuisines of multiple countries.
I believe that Sweet Hut Bakery and Cafe falls in to the latter category, combining Asain cuisines and applying a creative twist to a variety of both sweet and savory baked goods.
Although it has been a few months since we went to the Buford Highway Sweet Hut location, I still remember how wonderfully delicious the food tasted.  The baked goods were VERY reasonably priced.   We took ours to go.
The first box had a primarily savory mix. The  fuzzy topping on the oblong bun in the back of the box was actually pork and very tasty.  The crunchy coated round bun in the front left corner was a version of a peanut butter sandwich coated with crushed peanuts.  I believe that the final bun topped with almond slices contained tarro and had a piece of seaweed or green onion wrapped around it.
The second box contained a pineapple filled pastry in the far left corner, a Japanese inspired Hokkardo cupcake, and a chocolate butter cream filled bun completed the back row.  I am not sure what type of bun was in the front left corner, but in the front right corner was a Chinese inspired pastry filled with red bean past and an egg yolk and topped with black sesame seeds.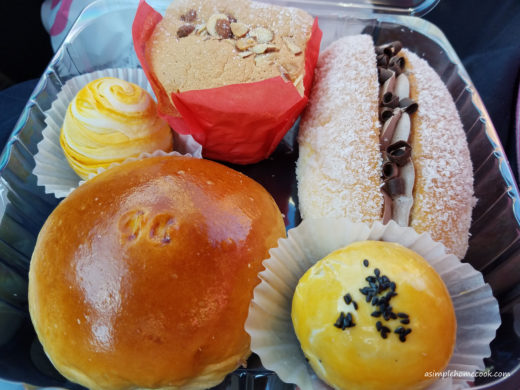 The final box had a vanilla butter cream filled bun in the far left corner next what I believe was a tarro root pastry topped with almond slices.  In the front left was a coconut tart next to a pandan cupcake.  The pandan cupcake was similar in texture to the Hokkardo cupcake; both were similar to angle food cake.  The pandan cupcake was a Malayian variation with its green coloring and subtle sweetness coming from pandan leaves.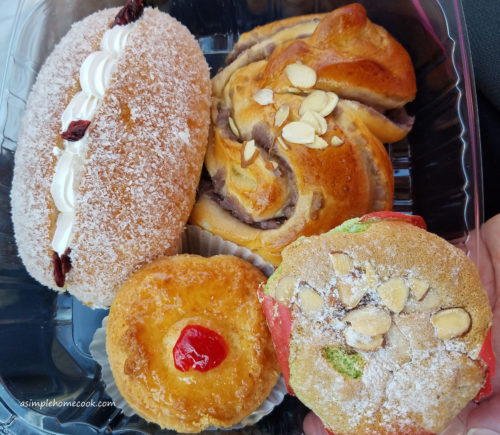 The pandan cupcakes were typical of the sweetness level of all of the sweets.  None of the sweet bakery items were overly sweet.  They had a nicely light sweetness about them.  This suprised me when I tasted the buttercream because I had braced myself for an onslaught of sugar, but instead I was pleasantly surprized.
We enjoyed all of the items we purchased.  There were many more to select from in the self-serve bakery, which made it difficult to decide what to get as it all looked good.  The only things I remember deciding easily against was those that contained hot dogs…I was not in the mood for hot dogs.
In addition to baked goods, they offer a large selection of teas (bubble teas) and other beverages.  We did not try any this trip.
Although the Buford Highway location is convient for a trip to the Buford International Farmers Market, a meal, and desert, Sweet Hut Bakery and Cafe does have other locations in the metro Atlanta area.  Some of their locations serve more sandwich and other cafe options than others. One of their newest locations is even closer to me…it is in Marietta, Georgia.  Yay!