Leftover sweet potatoes are great to turn into a delicious hash the next day. This sweet potato and lentil version is a very filling dish for breakfast, brunch, lunch, or dinner.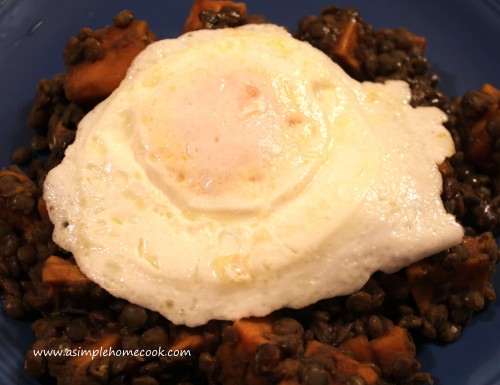 Hash is just not the prettiest dish; it does not make for great photography. Thus, I find the optional egg mandatory…if you are going to take pictures of your food. The dish is still tasty and hearty without it, but a runny yolk does add something wonderful as well.
While there are many different spices that work well in this dish, the spices in this particular version are ones that complement leftover maple glazed roasted sweet potatoes or other cinnamon and maple/brown sugar incorporated leftovers. It is easy to change up the spices to fit the rest of your meal or your mood…
Sweet Potato and Lentil Hash
Ingredients
1 c. dry lentils (French green, black beluga, brown or green)*
3 c. water
3 - 4 c. low sodium chicken or vegetable stock
1/2 tsp. +/- salt, to taste
1 Tbsp. olive oil
1 small or 1/2 med. onion, diced
2 cups cooked sweet potatoes, cubes or diced
1/2 tsp. turmeric, to taste
1 tsp. cinnamon, to taste
3/4 tsp. +/- fresh rosemary, chopped (optional)
4 - 6 eggs (optional)
Instructions
Check lentils for small stones, etc. as you rinse them under running water.
Place in a bowl or pot with water and allow to sit 4 or more hours. (NOTE: This step can be skipped, but I find the lentils cook easier and are more easily digestible).
Bring 2 1/2 c. of stock to a boil in a pot.
Drain lentils and add to the boiling stock.
Reduce heat and allow to simmer until lentils are almost to the desired tenderness..
Add salt to the pot of lentils.
In a large skillet, cook the onion in heated olive oil until tender before adding the turmeric and cinnamon.
Add sweet potatoes and cooked lentils (do not drain).
Add rosemary.
Add more stock if needed and gently mix well.
Optional: When heated thoroughly, either make wells (holes) in the the hash mixture for each egg, add eggs and more chicken broth, and cover with lid to cook eggs or just add poached or fried eggs to the top of the hash.
Serve warm.
Notes
* The type of lentils can differ, but you want to use lentils that retain their shape when cooked. Red and yellow lentils are NOT good choices for this dish.
A cast iron skillet is wonderful for this recipe.
https://www.asimplehomecook.com/sweet-potato-and-lentil-hash/
2017