If you wonder why I have not published more recipes for vegetable side dishes, the reason is there is really not much of a recipe usually involved. I usually fix very simply prepared steamed, roasted, and sauteed vegetables.
Brussels sprouts are one of those veggies that I usually fix the same way my mom made them. Steamed/boiled (often from a frozen state) until very tender then served in a small soup/salad bowl and covered in cider vinegar. I did try them covered in butter (frozen boil-in-the-bag variety, yuck) and sauteed in a bacon sweet-n-sour glaze, but I did not enjoy either way very much.
I now have a new favorite method of making Brussels sprouts, roasting them. They are really tasty! I had no idea Brussels sprouts could taste so good.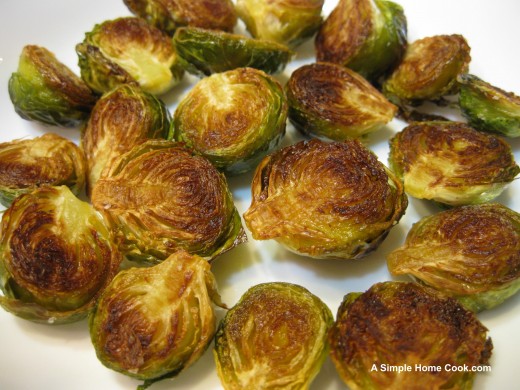 It is very simple to make them.
I did notice most of the recipes I found on the Internet were an adaptation of a recipe by Ina Garten. Frankly, it is so basic that I am not sure the recipes could not help but to be very similar.
Here is how I make them:

Recipe: Roasted Brussels Sprouts
Ingredients
1 bag or stem of fresh Brussels Sprouts
Olive Oil
Kosher or Sea Salt
Balsamic or Cider Vinegar (optional)
Instructions
Preheat oven to 425.
Wash Brussels Sprouts by letting set in a bowl of cool water for 5 or so minutes.
Cut off stems close to leaves.
Cut sprouts in half.
Put cut sprouts in a bowl and coat well in olive oil.
Season lightly with salt.
Place cut side down and spread out on baking sheet. Season with more salt.
Roast for approx. 15 minutes, remove from oven and turn sprouts over.
Return to oven and roast for approx. 10 – 15 minutes more or until golden brown on bottom and the outer leaves darken. They should be creamy on the inside and crisp on the outside.
Serve with Balsamic or Apple Cider vinegar on the side or drizzle over (optional).