It had been a long day for us. It had not started out as a fun mother-daughter day, but rather a follow-up trip to a pediatric dermatologist in Nashville that my eight-year-old did not want to make, especially since it meant an early morning start. However, it started to turn into a fun day when we went for a late breakfast at The Pancake Pantry.
The lack of a line outside of the restaurant was the first sign that the day was going to be better. Prior to this trip, we had never seen the restaurant open without a line out the door and down the sidewalk.
After eating at The Pancake Pantry, I can see why it is so popular. Stepping inside, I felt like I had been transported back to my childhood. It seemed like an authentic, pancake house/diner/restaurant somewhere from my past. Granted it did open in 1961, so if I had really been able to go with my grandma to Nashville when I was seven or eight instead of just pretending to on her couch, it could have been a pancake house from my childhood.
After we were seated, it wasn't long until our server took our order. Not only was the service quick and attentive, but it wasn't long until our food was sitting before us. Our day just continued to get better.
My daughter loves pancakes, so she went with ones that included chocolate candies from the kid's menu.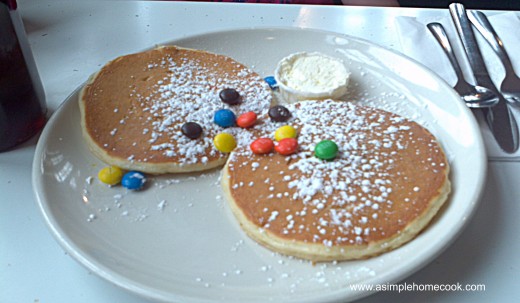 I am not much of a pancake fan, but I debated between the sweet potato pancakes, the Caribbean pancakes,or a waffle before deciding on a plain waffle.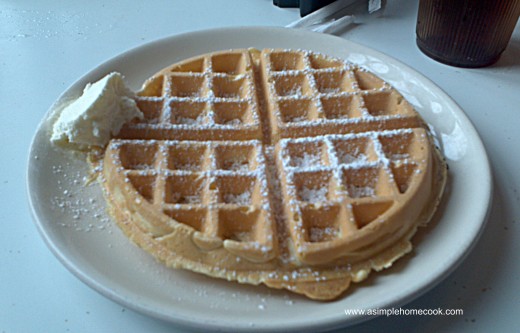 I had planned on ordering one of the many types of pancakes on the menu until I saw a man at the next table getting his waffle order. It looked so good and I had not had one in a long time…I couldn't resist. Granted, I normally like Belgium waffles more than pancakes, but I do regret not trying at least one of the more unique pancakes on the rather large menu.
I guess the next time we are in Nashville at breakfast and lunch, I'll try the pancakes. Hopefully, I'll be as lucky to arrive again at the Pancake Pantry when there isn't a line, but I know that is unlikely to happen 🙂
Pancake Pantry