After reading so many reviews on Urbanspoon, I just had to try The Pharmacy Burger Parlor and Beer Garden in East Nashville.  I am SO happy that I did.
They offer TN beef (or you can opt for turkey) burgers, as well as vegetarian and fish burger selections. They also offer house-made wursts and fountain drinks. I love that they know the sources of their meats, etc. and they make the sodas using their own cane-sugar based syrups. Best of all, everything we had was delicious!
I threw caution (and my calorie count) to the wind and ordered the farm burger.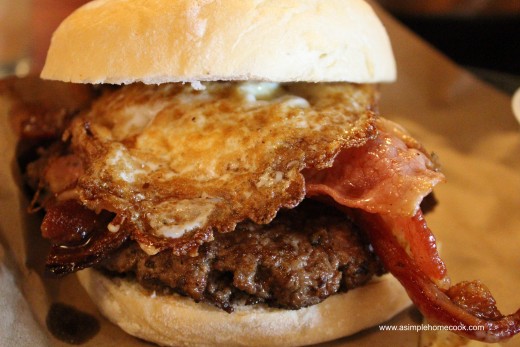 Although I had first heard of putting an egg on top of a burger when I was at a west coast chain called "Fatburger," this was the first time I had ever indulged…it was wonderful. I'm sure the egg addition was greatly enhanced by the terrific Tennessee bacon, ham and Provence bun made specifically for The Pharmacy. I don't see myself trying anything else on the food menu…this was just too good to not get it again.
In a rather surprising move, my husband ordered a soda to drink (he does not drink much soda). However, he found his strawberry ginger ale to be too sweet. It was a lucky break for my daughter and me (we had ordered waters)s; we thought it was just right…yum! Definitely worth trying again…but they have some others that sound tempting as well.
I don't drink beer and we did not have any…so, I have no idea.
Although it is not a place for all occassions, it does offer great locally sourced food and delicious old-fashioned soda fountain beverages.
Pharmacy Burger Parlor & Beer Garden