Okay, after all the cooking I have done in the last few weeks, I need a break. Luckily, I know of some really good places to go when I close my kitchen.
One of my favorite places is The Purple Daisy Picnic Cafe in the St. Elmo neighborhood of Chattanooga, Tennessee. It is at the base of Lookout Mountain and near the tourist attractions of the Incline and Rock City, but it is not a "tourist trap". In fact, I don't think that could be honestly said of any restaurant in the neighborhood. You are likely to find many "locals" eating in the cafe (and other St. Elmo area restaurants).
Why do I like The Purple Daisy Picnic Cafe so much? Well, unique decor, friendly service, very reasonable prices, parking, and most of all…really good food.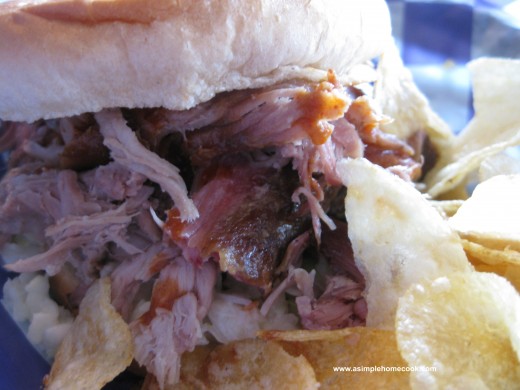 From the smokers next to the restaurant, they produce great meats for things like one of my favorites…pulled pork sandwiches. The sandwiches come in either sliders, regular, or jumbo (regular pictured above). You also have your choice of mild or hot slaw to top it off, if you would like. The barbecue sauce is not as sweet as some of the other local barbecues, but is still tasty. I also love their baked potato loaded with the pulled pork. However, the potatoes are huge and often require a to go box.
My other favorite menu item is not a barbecue item. It is called the rainbow sandwich.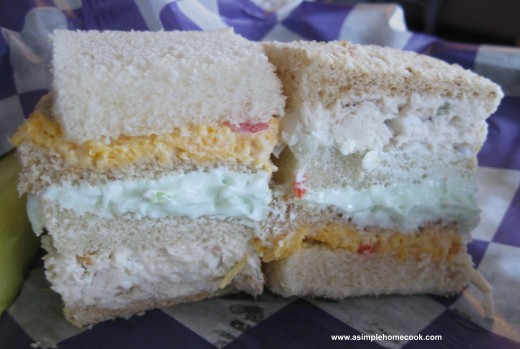 It is a multi-layer sandwich on two types of bread with pimento cheese, cucumber salad and chicken salad. It may sound very different, but it is very delicious.
So, if you are in the Chattanooga area and looking for good food at a great value for the entire family, give The Purple Daisy Picnic Cafe a try.
The Purple Daisy Picnic Cafe