Three Bean Casserole is a great dish to make in the crock-pot when you have a lot of things to do.  Not only is this old recipe easy, it is very tasty also.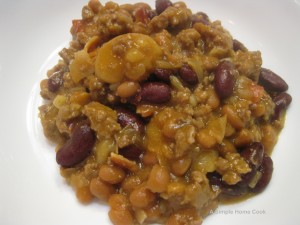 Recipe: Three Bean Casserole
Ingredients
1 lb. ground beef
1 med. onion
5 strips bacon
1 can pork and beans
1 can kidney beans—drained
1 can butter beans—drained
1 tbsp. brown sugar
1 tbsp. vinegar
½ c. ketchup
Instructions
Brown beef and onion in skillet. Drain.
Fry bacon.
Break into pieces add with grease to beef, beans, sugar, vinegar and ketchup in a crock-pot or casserole dish.
Bake casserole about 1 hour at 350 degrees or simmer in a crock pot about 2 ½ hours.