The Tomato Shed Cafe on John's Island in near Charleston, South Carolina is fantastic!  It has it all: friendly service, clean establishment, great tasting food, and very reasonable prices.
This unique, lunch-only cafe is part of the Stono Market, which sells produce, seafood, bakery items, take-and-bake items, decorative items, cookbooks, and more. Despite the retail items, there is still a nice size area with seating including several large tables that can easily accommodate large groups. In fact, our large group of ten was able to be seated quickly a little after 1 p.m. on a weekday.
They use many local ingredients (including the market's fresh, local produce) to make their terrific dishes.
The locally grown produce is wonderfully prepared in their zucchini, squash and onion saute.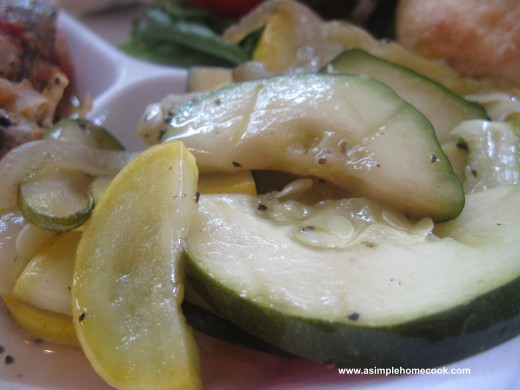 It is also wonderful in their tomato pie (a popular summer treat in many parts of the South).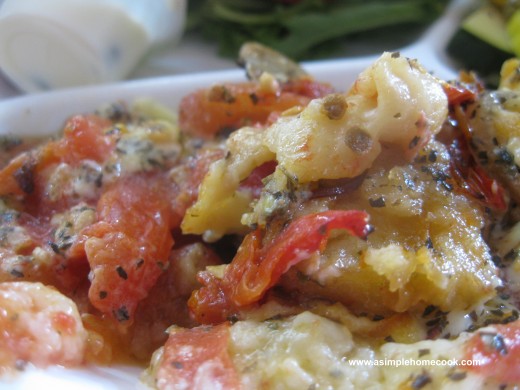 The local produce is also delicious in the squash casserole and coleslaw (not pictured).   Okay, I would probably list all of the local produce sides if I had been able to try them all.  They have a really nice, large selection of sides.
Most of the daily specials and entrees come with your choice of two sides.  The burgers and sandwiches come with one side. They all come with either ice tea or lemonade at no additional cost…a really nice feature.
I had the crab cake plate (it was also available as a sandwich) entree.  Although I rarely order crab cakes outside of an region of Maryland (yes, I am that spoiled), I was very pleased I took the chance at the Tomato Shed Cafe.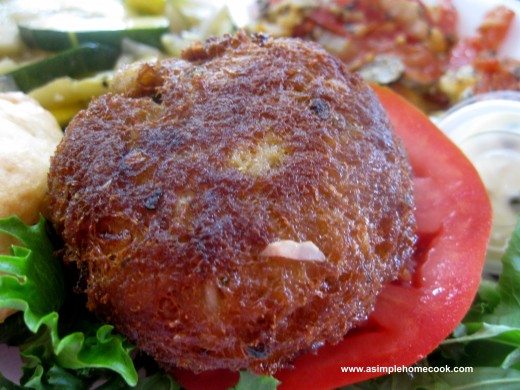 The menu does change daily with their specials, but there many items that are more consistently offered (including a pimento cheese burger, yum).
I think The Tomato Shed is a must try place if you are in the Charleston, SC area.