Sometimes when my husband cooks, he tries to get creative. The results of what he ends up with are usually nothing I would even think of sharing; however, there are exceptions. Much to my surprise, his twist on my ketchup and brown sugar pork chops is one of those exceptions. They were delicious!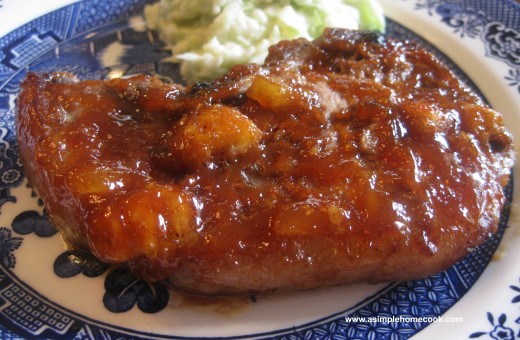 Frankly, I was very skeptical when he told me everything that he put in the sauce that the pork chops would even be edible, but I was wrong. It turns out that bananas do go well with pork…I had no idea.
This is a sweet sauce with just a little heat. You can easily adjust the sweetness level by reducing or increasing the amount of brown sugar and banana (or even eliminating the banana) in the recipe. You can adjust the level of heat by adding/reducing cayenne pepper and by the selection of the commercial or homemade barbecue sauce flavor profile.