One of my mother-in-law's classic dishes is her veal and peppers. I usually do not make it because of the price of veal. However, it can be made using beef or chicken instead.
I decided to go for it and make it with veal as a comforting treat for my husband after he was very sick for a week. ( Yes, I do think it was sweet of me 😉 )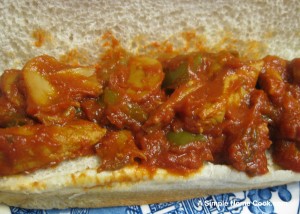 I was told by my mother-in-law that this dish is better the next day. I was told by my husband his mother never served it the day she made it, thus I have to recommend making this a day ahead.
This does make it a nice dish for casual entertaining or a great make ahead meal for a busy week.
This is basically my mother-in-law's recipe spiced up a bit at my husband's request.

Recipe: Veal and Peppers
Ingredients
1 lb. veal scallopini or chops
2 med. green (or red) pepper
1 1/2 Tbsp. olive oil
1 Tbsp. butter

*

1 jar sliced or 1/2 lb. fresh sauteed mushrooms
2 16 oz. cans of tomato sauce
1 sm to med. sweet onion, thinly sliced (optional)
sugar, to taste salt, to taste
black pepper, to taste
red pepper flakes, to taste*
oregano, to taste*
Instructions
Slice veal and peppers into bite size, thin strips.
Saute them in the butter and oil in a hot skillet until veal is lightly browned and peppers are softened.
Remove from skillet when done and set aside.
Saute onions, if using, until translucent.
Add tomato sauce, sugar, oregano, and some salt.
Bring to soft boil then add the veal and peppers back.
Add black and red pepper along with additional salt and sugar if needed.
Cook mixture over med. high heat for at least 15 minutes more.
Allow to cool some before refrigerating overnight.
Reheat mixture the next day and serve on Italian or crusty rolls.
Notes:
Beef or chicken may be used instead of veal.
*Not in the original