The first time I ever had homemade egg or spring rolls was as a teen when my older sister was home for a visit and made them…despite my father's aversion to trying new food.  At that time I was a picky eater, literally.  Although I would try almost any food, I would pick through everything I ate, inspecting it.  My sister used lettuce with the egg rolls that she picked from my parents' garden and thought it was funny to place a caterpillar she found on the lettuce on my plate of egg rolls.  I did not eat egg rolls for a few years after that incident.
The next time I had egg rolls at home, they were from the frozen food section of the store.  Finally, I started making them myself using egg roll wrappers I purchased in the produce section of the grocery store just like my sister had done years before.  Fast forward several many years, the Internet is out of its infancy and a Google or Bing search can teach you many things about cooking a large variety of cuisines…including egg rolls.  I now know not to use the egg roll wrappers from the produce section of the grocery store, but to go to the frozen food section to find spring/egg roll wrappers to make wonderfully crispy egg rolls like I buy in my favorite Asian restaurants.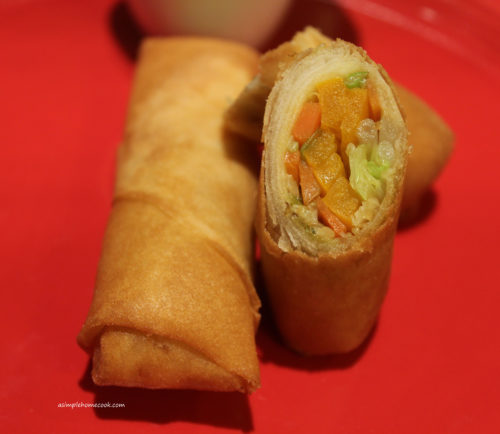 I learned that the bubbly exterior and chewy texture of many egg rolls came from the egg roll wrappers being thick and from too much moisture in the filling.  I also learned the importance of having a tight wrap with a relatively small amount of filling to achieve the type of egg rolls I like, crunchy but not greasy.
While egg rolls commonly have meat in them, these egg rolls are a veggie only option.  You can use a variety of different vegetables, whatever you like and/or have on hand.
Making egg rolls is an easy process, but it does take some time to complete.  So, why not make a lot and freeze what you don't use immediately for later?  They are much better than what you can buy in the grocery store's freezer.
Ingredients
Spring or Egg Roll Wrappers, frozen
2 Carrots
1 Bell Pepper
1/2 Cabbage, small head green or Napa
1 Tbsp. Oil (neutral flavor like Canola)
1 Green Onion, finely sliced
1 Garlic clove, finely minced or grated
Bean Sprouts
2 Tbsp. Chicken Stock
1/2 Tbsp. Soy Sauce, low sodium
1/2 tsp.Sesame Oil
2 tsp. Brown Sugar
Cornstarch
Water
Oil for frying
Sauce for dip (if desired)
Instructions
Thaw egg roll wrappers according to package directions; usually on counter for 1/2 hour or in refrigerator overnight.
Clean and peel carrots. Cut into match sticks (julienne) either with a knife or on a mandolin is easiest.
Clean and core peppers. Cut into small strips (julienne).
Clean cabbage and cut into fine shreds. It is easiest to use a sharp knife and make shallow cuts.
Add oil to a large saute pan or wok and place over medium heat.
Add garlic and green onion and saute until tender while stirring constantly.
Turn heat to high or med.-high and add other vegetables and cook for a couple of minutes.
Add chicken stock,soy sauce, sugar, and sesame oil.
Cook until desired tenderness.
Sprinkle with 1/2 to 1 Tbsp. cornstarch.
Stir until cornstarch is distributed and has absorbed much of the remaining moisture.
Spread cooked vegetable mixture on a baking sheet and allow to cool. Place sheet in the freezer or refrigerator to speed up the cooling process. DO NOT allow mixture to freeze solid.
Mix 1 Tbsp. cornstarch with 3 Tbsp. water into a small bowl to use as a glue to adhere the wrap to itself.
Open package of spring/egg roll wrappers and carefully separate individual wrappers or you can separate them as you use them. Cover with damp towel or plastic wrap to keep them from drying out. They will dry out quickly and are more likely to tear and break if you do not keep them covered.
Take one of the wraps and place it on a board or counter so that it forms a diamond in front of you.
Place 1 1/2 to 2 tsp. of the vegetable mixture in the bottom 1/4 of the diamond. Spread the mixture evenly, but keep it in the middle of the wrapper. Top with some raw bean sprouts.
Pull the pointed bottom of the diamond over the top of the vegetable mixture and tightly roll the wrapper around the vegetables. When you reach the half-way up the wrapper (at the other two points, tuck the wrapper around the vegetables with your thumbs and fold over the pointed sides of the wrapper toward the middle. Continue to roll toward the upper point of the diamond, tucking in the sides as you tightly roll so the wrapper is goes toward the point and does not extend beyond the ends of the roll after folding in pointed sides. (see video link if more directions needed) Many wrapper packages will contain illustration of how to roll wrappers.
When you have almost reached the final point, dip you fingers or a brush into the cornstarch and water paste and spread it over the point and remaining unwrapped sides of the egg roll wrapper to seal it to the existing rolled portion. Final rolls should be 1 1/2 to 2 inches in diameter.
Set on a baking sheet or in a pan until the wrappers are filled and rolled. Cover them with a damp towel or cling wrap as you continue to wrap. (If you are unsure of your rolls, you can skip to the next step after wrapping just a couple to do a trail run).
Heat 1 1/2 to 2 inches of oil in a Dutch Oven or deep stainless steel pot OR heat oil in a deep fryer to 370 degrees F (350 degrees min.).
Fry a few at a time, turning to make sure they are evenly cooked on all sides, until golden brown.
Place on a rack or paper towels to cool some before serving.
You can allow them to cool completely, then place them in freezer bags to freeze for reheating as desired.
Serve warm with a dipping sauce: duck sauce, sweet chili sauce, sweet and sour sauce, etc.
Notes
There are so many different vegetables that can be used in addition or in place of the ones listed including: snow peas, bamboo shoots, re-hydrated Chinese mushrooms, etc.
https://www.asimplehomecook.com/vegetable-egg-rolls/
2017
Although it is buried in the middle of a video, there is a demonstration on how to wrap "sexy" egg rolls.  It is a very good technique, despite the description.  The demonstration includes another egg roll recipe; this one has meat and shrimp.  Click HERE for the demo.
This is a great recipe for make ahead snacks or meals.  They are easy to reheat in the oven.