What do you serve as a side dish for tacos?
On the rare occasion when we make them at home, I would end up serving just the tacos and some fruit. However, I needed to make a side for a taco dinner at a church, so I came up with my own variation of the classic, black beans and corn. It was a big hit.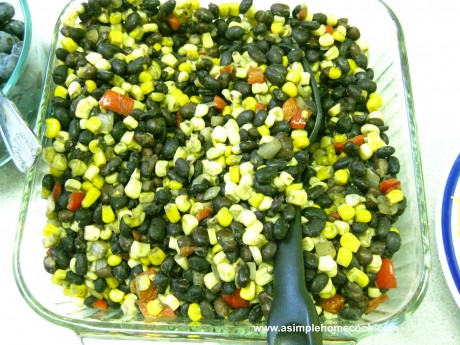 One of the keys to the success was using Adobo seasoning. Adobo is a Mexican spice mixture that come in several varieties. The one I use does have a little salt, but no pepper, saffron or citrus peel. I bought mine at a bulk food store.
This dish has now become a family favorite. It is versatile in that it can be served hot or cold. It can also be served on the side or as a topping.
The dish is inexpensive to make. I like to use dried black beans that I cook myself. I have a lot of beans left over, so I can also make other entrees later in the week with them like black bean burgers and chili. For about two dollars, I have enough organic black beans for more than three different meals…not bad in my book.
I like to omit the citrus juice when serving it warm and add it if serving it cold.