I almost walked past the Victory Sandwich Bar despite having the GPS on my phone active. While it was in part because its subtle signage, it was mostly my getting distracted by of all of the appealing dining options in the couple of blocks we walked from our car.
The Victory Sandwich Bar is conveniently located just a few doors down from the entrance to a MARTA station (transit train) and not far from a public parking garage. It is a quaint area of Decatur and a great place to avoid getting in the middle of rush hour traffic around the beltway…the real reason for our deciding to dine in Decatur.
Upon entering we were warmly greeted by the staff behind the bar and told to grab a seat where ever we wanted…we arrived just before the Friday night dinner crowd. We decided to sit outside and enjoy the comfortable weather. When my daughter saw other families with children her age and younger she seemed to become more comfortable with our choice of restaurants.
A quick glance at the menu confirmed the very reasonable prices. My husband and daughter also spotted a snack that they both wanted…popcorn. I thought the pimento cheese and bacon jam looked interesting, but I was out voted by a couple of popcorn fans. I must admit it was very good and very different than what I expected when the server mentioned ranch popcorn.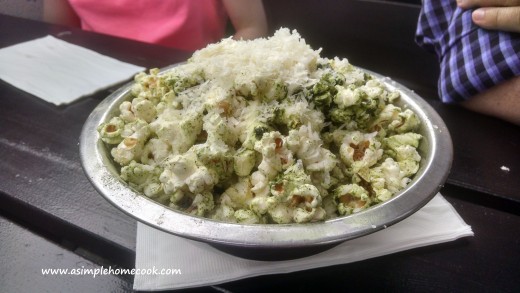 We all ordered sandwiches. I went with the Castro. It was filled with traditional Cuban sandwich ingredients including very delicious pulled pork. The bread was different. It was a very fresh brioche(?) bun. While it worked great for my husband's "Boss Hog" (pork barbecue) sandwich, it just turned to a soggy mess before I could finish mine. Despite this, it was still a great sandwich. Perhaps I should have started eating as soon as they brought it out instead of taking pictures….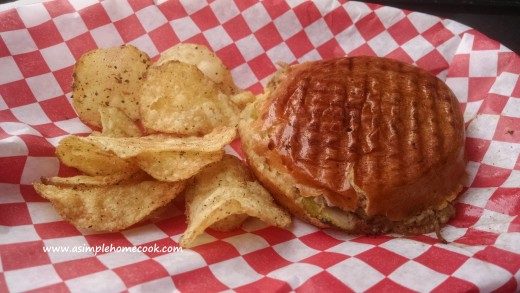 My daughter ordered the turkey sandwich. It was served on what looked to me like a ciabatta roll. Like our sandwiches, her's was made with quality ingredients. The most amazing thing about the sandwiches was their price…$4. I was amazed that we were able to eat at the Victory Sandwich Bar for less than what it would have cost us to go to some of the fast food places.
Quality food at affordable prices with a friendly staff and a nice atmosphere…what is not to like?
While we did not drink any alcohol, I did notice that they had some interesting sounding drinks on the menu. One of the drinks is called the Paper Plane, which is also the name of their other establishment at the same location. Yes, you can enter the Victory Sandwich Bar and go to the Paper Plane of an evening through a door marked "Members Only" near Victory's restrooms. There is also apparently an entrance to Paper Plane through an unmarked black door from the ally. Knowing this now explains so much of what I watched as we sat on the patio next to a parking lot as we ate….
I really enjoyed the Victory Sandwich Bar and look forward to going back…the next time I want to try the pimento cheese and bacon jam snack.