My mom used to tell me that German potato salad was her favorite. As a young adult, she had boarded at the home of an older woman who had immigrated to the United States from Germany. I believe this is where she developed her affinity for the warm potato salad.
My mom would rarely make warm German potato salad in part because my dad did not like it. She would order it when on that rare occasion we ate at a restaurant that served it. Except for a German restaurant near where she lived at the German woman's house and one near Cincinnati, she said none of them came close to the potato salad she remembered.
I found a recipe for German Potato Salad in one of her cookbooks a couple of months ago and decided to make it. After reading the recipe, I realized it is not the one I really remember her making.  I remember her putting flour in the dressing and onions in the potatoes, but I have not located that recipe…yet.  However,   I also think I figured out another reason she did not make it (at least this version) very often…it has a lot of bacon fat. This is not a recipe that would be included in the eating light section.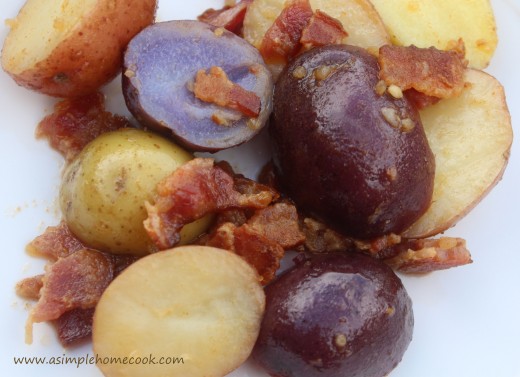 I am not sure if she ever used this particular recipe, but I made some minor tweaks and tried it anyway. My family really liked the result. Like my mom, I will not be making it very often either…it is a nice to have every once in awhile. Because it is rich with bacon and starches, I serve it with an otherwise meatless meal ie. as a side to Lentil Sloppy Joes.
Unlike the cookbook's recipe, I used small, tender potatoes and kept the skins on. I just cut them in half rather than peeling and slicing larger ones. If I had used larger potatoes I would have sliced them. I would probably peel the potatoes too if I used a larger, thicker-skinned potatoes like russets. I really like using a colorful mixture of gold, red, and purple potatoes to liven the appearance of an otherwise rather drab salad.
Ingredients
6 slices of bacon
2 lb. potatoes
pinch salt
1/4 c. bacon grease
2 tsp. dried onion, minced or diced
1/4 c. cider vinegar
1/2 tsp. paprika
Instructions
Cook bacon and reserve 1/4 c. of the grease in a saucepan.
If using small potatoes, slice in half. If using large potatoes, peel (if desired) and cut into thick slices.
Place in a large with enough water to cover by 1/2-inch and add a pinch of salt (if desired)
Bring to a boil over medium-high heat.
As the potatoes are cooking, add onion,vinegar and paprika to the grease in the saucepan and bring it to a boil over medium heat.
When the potatoes are tender but not falling apart, drain and return/leave them in the skillet.
Add crumbled bacon to the potatoes.
Pour hot vinegar mixture over potatoes and bacon. Carefully stir to coat all the potatoes and bacon.
Serve warm.
https://www.asimplehomecook.com/warm-german-potato-salad/
2017