I have been open about how little I thought of the food scene in Washington, D.C. especially in the early 1980's.  Nothing brought home how much things had changed than my last trip to D.C. when I stayed at the same hotel as I did in 1984 on my first trip to D.C.  Then, I did not have one meal that I thought was okay beyond one hotel cooked conference dinner.  In fact, I remember walking for blocks in late December to find a fast food restaurant…and then I couldn't stand to eat my sandwich.  Indeed, things are vastly different in today's D.C.  Today, there is a wonderful and relatively inexpensive cafe next door to the hotel, West Wing Cafe III.
As the III after the name indicates, there are two other locations.  Aside from being next to the hotel where I stayed, this location is the closest to Capitol Hill and convenient to Union Station.  As I only went to this location, I can not speak to the other locations.
I liked this quick-service restaurant so much that we ended up going there multiple times…in the same day.  Good food at decent (especially for D.C.) prices, need I say more?
They are open for breakfast until past 7 p.m. on weekdays, as of this writing. They have more limited hours on Saturdays and are closed on Sundays.
They offer a wide selection of food options. Breakfast options include egg sandwiches, breakfast platters, omelets, and bagels.  The lunch menu is served the rest of the day.  This  includes soups, salads, sandwiches and sushi.
They use a lot of Boar's Head meats in their hot and cold sandwiches.  For lunch, I had a special of the day that was packed full of ham with a version of a honey (and maple?) mustard that was very tasty.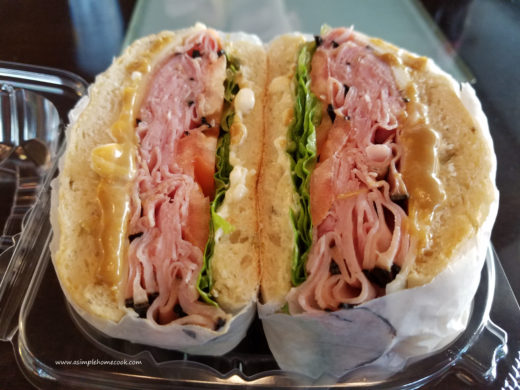 For dinner, I had a sandwich off of the regular menu, that was filled with turkey, a delicious vegetable cream cheese and sprouts.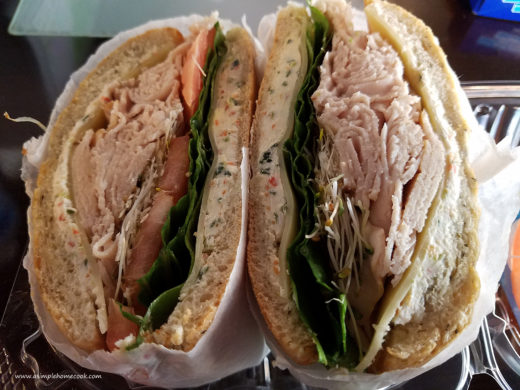 Both sandwiches were on fresh, delicious breads and had nice, fresh tomatoes and greens.
My daughter went a different direction.  For lunch she had soup and for dinner she grabbed a pre-made sushi plate.  (It was fuller than the picture indicates, but I did not snap a picture in time.)  Although she opted for a pre-made plate, they do make sushi fresh-to-order.  The pre-made plates were all made the same day and were a quick alternative.  (They are also good for a sometimes introverted daughter who doesn't want to order her own sushi for the first time.)