In the United States, regional differences in food apparently extend beyond the boundaries of just regional dishes like lobster rolls in Maine, pepperoni rolls in West Virginia, goetta in metro Cincinnati, Ohio, and many, many, many more. There are also regional differences in how we eat commonly served dishes.
For example, why is this sandwich not ready to eat yet?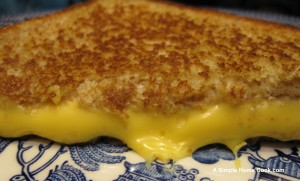 It needs relish.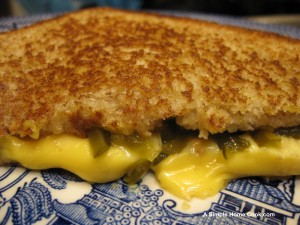 I did not know until I was probably 30 years old that not everyone served grilled cheese sandwiches with either pickles or relish. My dad always ate relish on his. Schools served it with pickles on top from grade school through college. On the rare occasion I ordered it at a restaurant, it came with pickles. Plus, my parents moved to Ohio when my sister was little and her schools always served it with pickles as well.
It was not until a friend of mine from Michigan who was living in Ohio started making fun of me for putting relish on my grilled cheese.  Prior to his remarks,  I did not even fathom the idea that this was not standard fare for everyone.
Since then I have discovered other regional variations of dishes or at least how they are served/eaten. Here are some of the ones I noticed:
Chili:  With beans, without beans, with sour cream, with cheese, Cincinnati-style there are thousands of variations in the chili itself.  However, I was surprised to find not everyone grew up with a peanut butter sandwich as the standard side item.
Hot Dogs:  These are very, very regional with just as many (or more) variations as chili.  In my youth, hot dogs were most often served with sauce (or chili as it was called in the southern part of my home state) and onions or Cole slaw.  There is are so many regional variations that I won't even begin to mention them.  I am just grateful many of them are available at the Good Dog.
French Fries: While ketchup may be a standard condiment for the fries, there are many other pockets around the United States where other dips or toppings are popular.  Fry sauce is a condiment that is several sauces known by one name.  It may be a white mayo mixture, Thousand Island dressing, or Russian (ketchup/mayo)  dressing.  Although apparently very popular in Utah, there are pockets of popularity around the country.  Gravy on french fries is also common in the New Jersey/Delaware area.  Malt Vinegar is frequently applied by those along the  North East Coast,  in Ohio, and beyond for those "Boardwalk" fries.  Of course in the Pittsburgh, PA region, they put the french fries on everything from steak salad to sandwiches.
So you may be sitting in Alabama and eating mayo on your fries with your pickle topped grilled cheese sandwich on your plate.    It is possible.   This is certainly not set in stone.    Food preferences move with people.  Good food ideas catch on.
Eating relish on grilled cheese is one of those good food ideas that has caught on, at least with my Delaware born and raised husband.  He too used to make fun of me eating relish on my grilled cheese, but now he puts it on  his own grilled cheese sandwiches.   He says it is just humor me, but I know the real reason. . .it tastes wonderful.
I know there are tons of other regional variations.  What are some of yours?  How do you eat your grilled cheese?