I blame my mom. Yes, you read it correctly…I blame my mom. What for you ask? My dislike of almost every potato salad made, except those using her recipe.
I am just thankful that she taught us how to make it and actually shared the recipe for her potato salad dressing with several family and friends. However, it is still one of the most requested of her recipes.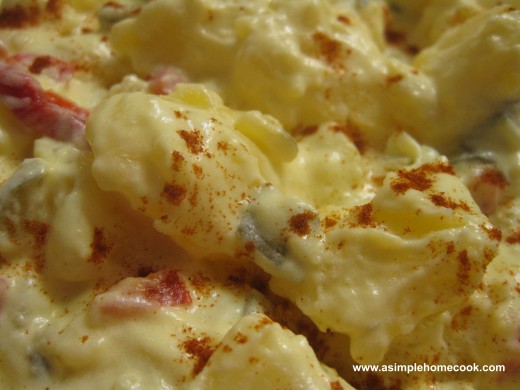 It is a traditional potato salad in a creamy dressing. The slightly sweet dressing with a hint of sour is the key to this potato salad.
Frankly, Mom never used a recipe when she made it. My little sister and I never used one now. This was her/our best guess.
In order to really replicate my mom's potato salad, you would have to use some of Gussie's home canned Sweet Pickles and Grandma's home canned Pickled Pimentos in it.
Oh, how I wish this acre I live on could actually grow something other than weeds and ants. I'd love to be able to make pickles… I blame my mom for that, too.