We often had more zucchini from our garden than we could eat or give away in a summer.  One particularity abundant summer I decided to turn all of our excess zucchini into zucchini bread.  I baked zucchini bread for days.  While we did give some of the bread away, I froze most of the bread. We frequently ate zucchini bread throughout the year.  We still had a couple of loaves left when the zucchini started blooming the next summer.
While I have never made that much zucchini bread in one season again, I still love making zucchini bread (and other quick breads) and freezing it for later.  Unlike some other baked items, I think zucchini bread tastes just as good after it thaws as when it was freshly baked.  In fact, I think it is so good that I now travel to farms or farm auctions to buy zucchini by the box so I have enough zucchini to make bread for the freezer.  It only takes 2 or 3 to get enough shredded zucchini for two loaves of bread, so a box of 10 to 20  can make a LOT of bread.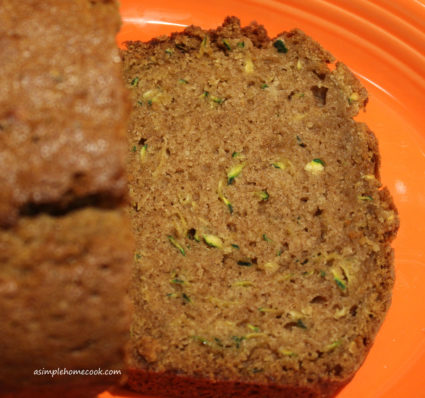 Ingredients
3 large eggs
1 c. oil
1 c. brown sugar
1 c. granulated white sugar
2 tsp. vanilla extract
2 c. shredded zucchini
3 c. flour
1 tsp. salt
1 tsp. baking powder
1/2 tsp. baking soda
4 tsp. ground cinnamon
1 c. chopped nuts (optional)
1 c. raisins (optional)
Instructions
Preheat oven to 350 degrees F.
IF YOU ARE USING THEM: Lightly coat raisins with some of the flour in a zipper plastic bag or small bowl and set aside.
In a mixing bowl, beat eggs, oil, and sugars together.
Stir in vanilla and zucchini.
Place flour, salt, baking powder, baking soda, and cinnamon in a sifter of mesh strainer.
Sift dry ingredients into wet zucchini mixture.
Mix in nuts and raisins, if using.
Stir until well combined.
Place into two loaf pans that have been greased and floured OR sprayed with Baker's Joy or similar spray with flour.
https://www.asimplehomecook.com/zucchini-bread/
2017
The recipe makes two regular, medium sized loaves.  Eat one fresh from the oven and give away or freeze the other.
To freeze the bread, I wrap each loaf in heavy duty aluminum foil and then place each in a zipper freezer bag.  Before freezing, I label each with the date and contents.  To thaw, I either place in the refrigerator or set on the counter top.  Sometimes, I will reheat the bread in the microwave, but I often serve it at room temperature.