The end of summer means back to school, cooler nights (and hopefully cooler days), and transitioning to fall foods. To celebrate the unofficial end of summer I grilled chicken and topped it with a chunky apple barbecue sauce to welcome fall.
Inspired by a dish that a chain restaurant used to serve in the fall (they may still serve it, but there are not any in the area where I live now), I developed a version of the chunky apple barbecue sauce using a couple of different types of apples so that some of the apples would retain their shape while others became more integrated into the sauce.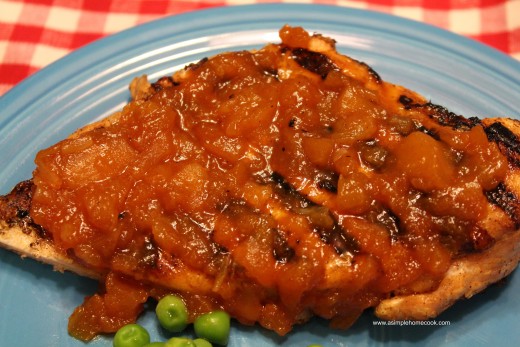 I was a little too enthusiastic about mashing the apples for the sauce this time, so there are not as many apple chunks as I would have liked. In order to have apple chunks after cooking the apples, I use a couple of different varieties/types of apples. I combine a sweeter, softer apples with more tart, crisper apples that will hold their shape. If you would rather have a smoother sauce, just mash or blend it more to reach the desired consistency and use more (or only use) sweeter, softer apples.
To grill the chicken, I like to use a meat mallet to pound the boneless, skinless chicken breasts so that the thickness of the entire breast is about even. I then add a mixture of salt, paprika, and garlic powder to the breast before placing them on the grill.