Although Apple Salad with Vanilla Dressing could be considered a side dish, I think of it as dessert. It is a great no-bake option that can easily serve a crowd. Plus, it is rich in flavor and fiber.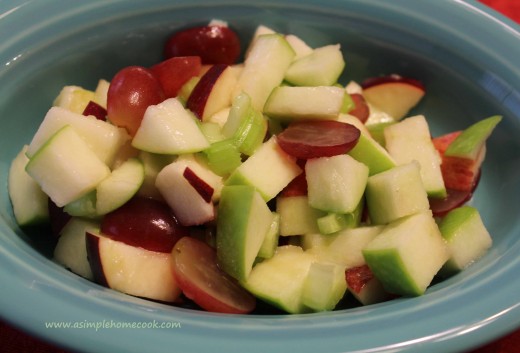 As written, the dressing recipe has a very strong vanilla flavor. If you aren't a fan of vanilla, this is not the recipe for you. You may want to experiment with another flavoring, but I have never used anything but vanilla as I love vanilla.
One other word of caution about the dressing, the recipe makes more than I actually use. The fruit releases moisture after the dressing is added, which increases the amount of dressing (and dilutes it some), which can lead to the fruit bathing in the dressing. You may want to start with only adding half of the dressing and adding more to coat the fruit.
Do not worry about the apples turning brown. Cut them last and have the dressing ready to apply as soon as you are done cutting. The dressing will keep the sliced apples from turning.