Moist and tender were hardly words you would have used to describe the pork chops I used to make.  In fact, more accurate descriptors would have been dry, chewy, and flavorless.  The only way I used to cook edible pork chops was to bake them on top of  dish of sauerkraut or smothered in condensed cream of mushroom soup.
One day I had pork chops and peaches in a southern restaurant.  They were moist, but not baked.   I was inspired to experiment with pork chops, fruit and glazes.  As a result, I can now make pork chops that do not seem like they are a jerky experiment gone bad.   A chain saw is no longer a required tool at the dining table.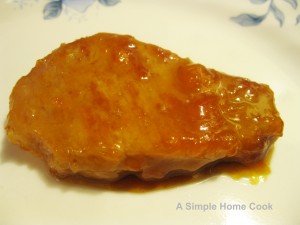 This is my husband's favorite of my pork chop preparations. It, like the others, is very simple.
As there is not much truly new, I know there are probably similar recipes. However, I developed this preparation on my own…without the aid of recipe.
Recipe: Apricot Glazed Pork Chops
Ingredients
4 lean pork chops
1/2 to 1 Tbsp. olive oil
Salt, to taste (I often use seasoned salt)
1/3 c. apricot preserves
2 – 3 Tbsp. water
Instructions
Heat olive oil in skillet.
Add pork chops and brown on both sides.
Season with salt on both sides.
Reduce heat to medium (medium-low).
In small bowl mix preserves and water.
Add preserve mixture to skillet.
Cover and cook.
Sauce should boil the last 3 or so minutes of cooking to thicken the sauce.
Cook time will vary with the thickness of the pork chops. In general, a 3/4 to 1 inch chop will take at 8 – 10 minutes. It is best to use a instant read or meat thermometer to check for correct internal temperature.
Quick Notes
Pork loin chops are great for this recipe.
Be sure to remove any excess fat from chops.
Other flavors of preserves work.
Jelly and jam can be used instead of preserves.