When we moved to this area a few years ago, we had Thanksgiving for about 17 family and friends before we had even unpacked everything (and we were missing a bed). I did not want to chance making everything, so I ordered a smoked turkey from a local barbecue restaurant.
To my surprise when I picked it up the night before Thanksgiving, it was covered in barbecue sauce. I was mortified. After all, what could barbecue turkey taste like?
I had no choice but to serve it along with a turkey breast I cooked. I was afraid people would not like it though.
Much to my surprise, the turkey was a success. People said how much they liked the turkey. However, all I could do was to take their word for how wonderful it tasted. You see, we ran out of barbecue turkey before I filled my plate. I was stuck eating the breast I cooked.
We have been away for Thanksgiving ever since – until this year. This year we were home for Thanksgiving and I ordered another smoked barbecue turkey. This time there were just a few people and I was able to have more than my share.
Everyone who loved the turkey was right. It is fantastic. The barbecue sauce permeates the meat and it is delicious.
What does a smoked BBQ turkey look like?
Well, here is a picture before I reheated the turkey: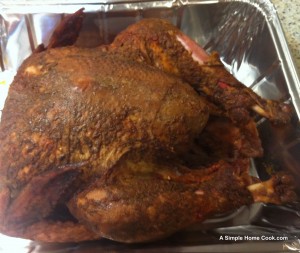 Here is a picture after I reheated the turkey: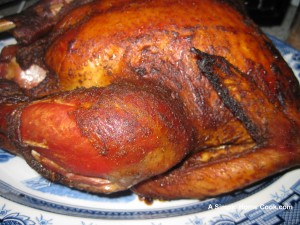 We purchased the turkey from Famous Dave's Bar-B-Que. I don't know if it is sold at all Famous Dave's restaurants, but it is sold at several locations in Tennessee.
I don't know if we will have smoked BBQ turkey for Thanksgiving or Christmas every year, but I do know it will be for one or both holiday meals. Yes, it is a new holiday tradition at our house.
Even though there is part of one in my refrigerator right now, I am tempted to order another one for Christmas. Maybe I should wait to decide later…perhaps after a nap…
Disclaimer: No compensation or solicitation was provided for this post. The opinions and experiences are my own.